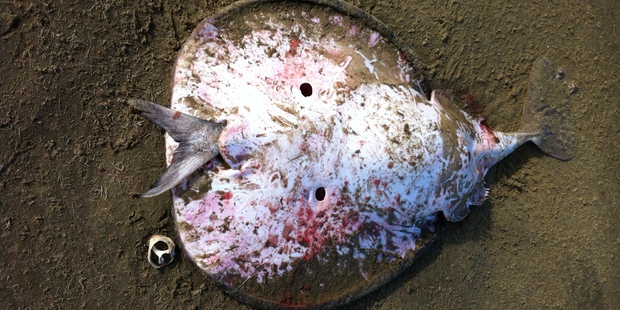 A flat sea creature with two tails which washed up on Ninety Mile Beach excited a reader who sent a photograph to the Herald.
A marine life expert believes it is just a dead electric ray, also known as the New Zealand torpedo, that had choked on a fish.
"It looks like an electric ray which has swallowed a fish, probably snapper," said Phil McGowan, Kelly Tarlton's general manager.
"This [photo] view is of its underside as opposed to the top."
The New Zealand torpedo, or torpedo fairchildi, is endemic here, and Maori know them as mata and whai repo.
They grow up to a metre in length, have a greyish-brown top but white on the base, and are found on or near the ocean floor.