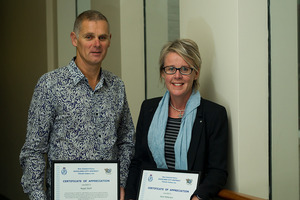 Out on an early morning run, Jane Patterson was first on the scene when a car plunged into Auckland's Waitemata Harbour on March 13.
The 44-year-old events manager and another member of the public, Nagel Staff, dived in and helped drag the driver from his sinking vehicle to safety.
On Friday the pair were awarded a District Commander Certificate of Appreciation for their life-saving actions.
Police Minister Anne Tolley and Assistant Commissioner Nick Perry presented 47 police officers and members of the public with awards and medals recognising long service, good conduct and bravery at a ceremony at Auckland Town Hall.
Mr Staff, a surf life guard, was first to reach the car which had drifted 5-10m and had sunk to a level "well over anybody's head". A female passenger had managed to get out but the driver remained inside.
"I banged on the window a few times ... he was in the car asleep or unconscious. I went around to the driver's side and he still wouldn't respond - the doors were locked and I couldn't get in," said Mr Staff.
He and Miss Patterson tied a rope around the car to pull it in, when they saw the driver had got out.
The pair managed to swim the man back to shore and he was taken to hospital and treated for non life-threatening injuries.
- APNZ