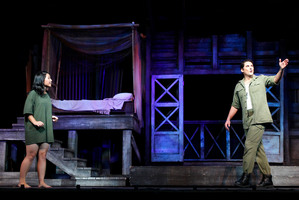 The director of Ashburton's production of Miss Saigon was seriously injured when he fell from the stage during a rehearsal days out from the first show.
Ashburton Variety Theatre president Bridget Danielson said professional director David Williams was in Christchurch Hospital with fractured ribs and vertebrae, a broken shoulder and a gash to the head after a "devastating" fall from the stage into the orchestra pit during rehearsal at the Ashburton Trust Events Centre on Wednesday evening.
She could not go into detail about how the accident came about.
She said Mr Williams was expected to be in hospital for several weeks, but the cast had pulled together and were on track for the opening on Friday.