NZ has chance to pass world-leading legislation and create economic benefits, writes Catriona MacLennan.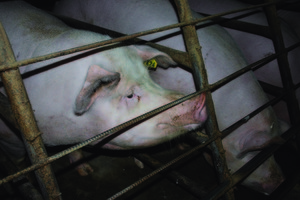 New Zealand in 2013 has the opportunity to take a bold step and introduce the best animal welfare laws in the world.
This would not only enhance our international reputation but would bring economic benefits as we could charge a premium for exports produced without cruelty to animals.
The 1999 Animal Welfare Act has been under review for the past couple of years and an amendment bill was introduced to Parliament on May 8. The public will soon have the chance to make submissions on the proposed changes.
But rather than being a broad review aimed at making this country the international leader in setting high standards for the treatment of animals, the review is timid and narrowly-focused. New Zealand can - and should - do better.
The new law to come out of the review should start with a very basic statement: that animals are in fact living beings rather than inanimate objects.
To non-lawyers, this probably seems obvious, but many of our laws treat animals solely as property and as having no value other than their financial worth to a human.
The new Animal Welfare Act should incorporate a declaration of sentience to recognise that animals are living creatures in their own right. In the European Union, the Treaty on the Functioning of the European Union includes a Declaration of Sentience, which places animal welfare on an equal footing with other key provisions such as the promotion of gender equality, the protection of human health and the promotion of sustainable development.
One of the greatest failures of the Animal Welfare Act has been the legal blessing it gives to the cruelty of battery cages for hens and sow stalls and farrowing crates for pigs.
These are permitted under the current law as involving "exceptional circumstances" which are allowed because it would cost farmers money to ban these cruel practices.
The legislation guarantees New Zealand animals the protection of the "Five Freedoms" - basic rights to shelter, food, water and other necessities. But this country's three million layer hens, 90 million broiler hens and pigs in sow stalls and farrowing crates are outside these fundamental protections because of this legal loophole.
The new bill proposes to change the law by making codes of welfare enforceable in future through regulations and writing into the law power to consider "practicality" and "economic impact". This would allow intensive farming practices to continue indefinitely.
The Government at present proposes that battery cages should be phased out very slowly but that they should be replaced by colony cages, which are very little better and give each hen extra space only the size of a credit card. Sow stalls are to be banned but the cruelty of farrowing crates will continue.
What should instead be done under the new law is that all farmed animals should be given the protection of the Five Freedoms, with no exceptions. The misleadingly named codes of welfare should be abolished and farming practices which do not satisfy basic standards should not be permitted.
At present, New Zealand has in place a ban on the export of live animals for slaughter, after a horrendous history of animal suffering and damage to the international reputations of countries which permit such exports to the Middle East. The review proposes continuing that ban through new regulations. Why not just clearly write a permanent ban into the new act ?
New Zealand could also lead the way in its new legislation by becoming the first country in the world to ban testing on animals. There is no need to subject animals to torture in the name of experiments. Nowadays, ample alternatives are available, including in vitro cell culture, in silico computer simulation, the use of human skin for skin irritancy tests, micro-dosing and the use of donated human blood for pyrogenicity tests.
There is also no point in introducing new laws unless resources for their enforcement are provided. The Ministry for Primary Industries has a tiny budget for animal welfare work and the SPCA has to fundraise to obtain resources for its activities. As a result, much of the animal cruelty in New Zealand is never detected and never prosecuted.
When the new act is passed, there should be a significant increase in the resources provided for its enforcement.
Education is one of the most powerful tools for tackling ill-treatment of animals. More funding is needed for programmes such as the SPCA's One of the Family, which teaches empathy to children.
The review proposes to spell out that cruelty in hunting and fishing can be prosecuted as a wilful or reckless ill-treatment offence under the act.
This amendment is much needed as at present those engaging in cruel hunting practices seek to argue that they are not subject to the legislation.
Another positive suggestion is that guidance be provided to judges when they are considering imposing orders disqualifying people convicted of animal welfare offences from owning or having control of animals. Disappointingly, judges have rarely used this provision in practice.
It accordingly needs not only to be clarified but also to be strengthened by the inclusion of wording directing judges to apply it.
The review of animal law has also for the first time in New Zealand resulted in the drafting of a New Zealand Animal Welfare strategy, which aims to set future directions. For this document to be worthwhile, it needs specific goals and dates for their implementation, as is done in the European Union.
New Zealand can this year put in place animal welfare laws which are world-leading and serve as a model for other countries. This is the right thing to do on moral grounds but would also bring economic rewards.
Catriona MacLennan is a barrister and the presenter of animal programme Paws for Thought on Sky Channel 83.