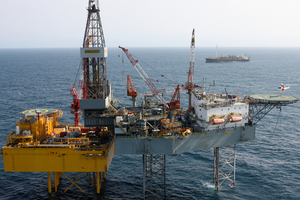 Olympic rower Rob Hamill and young champion surfer Mischa Davis have thrown their support behind a new campaign to protect what they say is a major threat to New Zealand beaches.
The duo joined forces today for the launch of the Green Party's bid to stop deep-sea drilling in New Zealand waters.
Mr Hamill, also a former Green Party candidate, said the Government could not be trusted to ensure risks were mitigated for exploratory drilling planned for the west coast of the North Island and the east coast of the South Island.
"It's our entire national coastline that is under threat," Mr Hamill said.
"They're going to say it's fine, there's no risks involved. [But] you simply cannot guarantee that."
Green Party leaders announced the campaign today - named Kiwi Bid - which they hope will attract thousands of signatures in support of protecting "our oceans and beaches".
Co-leader Metiria Turei accused the Government of being willing to allow "any cowboy company around the world" to bid to drill in New Zealand waters.
She said the threat of deep-sea drilling was potentially catastrophic and the Rena disaster showed New Zealand wasn't equipped to handle an oil spill.
"I don't know what John Key's problem is - he is putting this country at risk," Ms Turei said after the petition launch at Piha.
"Ask him why he's prepared to put so much of our environment at risk for such a foolish outcome."
Ms Turei said she expected "thousands" to sign the petition, which will be presented to the Government in September.
"We are inviting New Zealanders to become stakeholders on our bid.
"It's a bid to protect our waters for all of us, rather than allow corporations to conduct risky deep-sea drilling."
She said the threat of a leak from deep-sea drilling was too high to risk.
"There is no guarantee of safety with deep-sea drilling so we shouldn't be doing it.
"If there is a leak from a deep-sea oil rig there is no easy way to stop it. The consequence for New Zealand's environment, economy and reputation would be catastrophic."
- APNZ