He was king of the car-boot lawyers, the poster boy for all that was supposedly wrong with the old legal aid system. Changes to the regime knocked Tudor Clee down but he is fighting back, reports Phil Taylor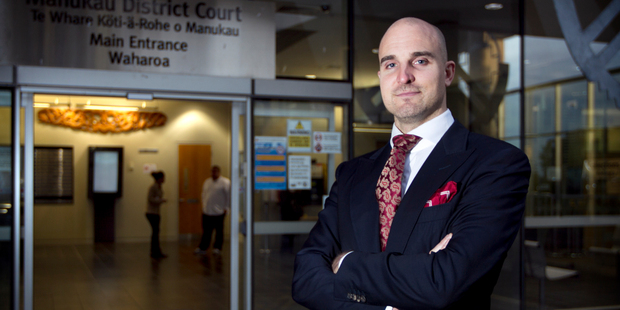 When Tudor Clee this week made what is now an irregular appearance in the Manukau District Court, he was greeted as an old friend. Family members of the woman he was acting for at sentencing told how he'd always done right by them when they were before the courts.
Security guards hoisted eyebrows and extended a hand when they saw his striking visage. One of the clerical staff came over to reminisce about how Clee had sponsored the Tongan Eagles, kitting out the impoverished team with jerseys emblazoned with his freephone number "0800 BUSTED" in white on the bright red jerseys.
It was the first proper uniform they had, she said. The boys had played like men inspired, she said, turned around recent form to win Auckland's first Tongan rugby league tournament. "He's very popular. Caring" And then the clerk added what might explain why she didn't want her name used, "Some have their opinion of him but he's a good man."
Other staff teased him about the "PDS", the Public Defenders Service, the Government-run body of defence lawyers, which was trialled in 2004 as an alternative to private lawyers like Clee but did not take off until a rule change took away the the ability for those on legal aid to chose a lawyer and gifted the service half the work.
Taking away a defendant's right to chose a lawyer cut Clee off at the knees. The former fashion model and sometime clothes designer had been a phenomenon under the old system.
In just his fourth year out of law school, Clee, 33, billed the taxpayers $431,527.35 in a single year. He took on 599 cases in the year to July 2010 twice the number of any other lawyer in the country.
Those big numbers coincided with the Bazley Report, which claimed, anecdotally, that up to 80 per cent of lawyers practising in the Manukau District Court could be gaming the system by delaying a plea or changing a plea to maximise payments.
Though no names were mentioned, as the biggest biller, Clee thinks he was tarnished and became a target.
Public service mandarin Margaret Bazley's 2009 inquiry was in response to a runaway legal aid bill, which rose from $111 million in 2007 to $172 million three years later. The result was an overhaul of how criminal legal aid operated. The Legal Services Agency was scrapped, its role taken over by the Ministry of Justice. As well as defendants having to take the lawyer they were given, legal aid lawyers had to be accredited and pay rates were cut.
The PDS was beefed up, new offices opened around the country. Private legal aid lawyers have been hard hit. Some lost large incomes overnight. Many quit their offices no longer able to afford the rent. Some resorted to working from their cars, becoming the car-boot lawyers the changes sought to eliminate.
Clee, whose clients were generally poor Manukau residents facing relatively minor charges, took a huge hit, but didn't take it lying down.
He unsuccessfully sought an injunction, arguing that removing the right to choose a lawyer was a breach of the Bill of Rights and he was critical of the change and the PDS.
He lost his role as a duty solicitor for more than two years, being returned and wasn't allocated a single legal aid file for eight months. But what annoys him most is a "fictitious" complaint by officials to the Law Society alleging he had acted unethically. He was accused of having failed to inform two clients of their legal aid entitlement and mis-led them regarding their representation. The Law Society dismissed it, finding the allegations unsubstantiated.
Clee says the complaint appeared to accuse him of "acting fraudulently in charging clients for work I have not done". The basis of the complaint was an unsigned memo written by a PDS lawyer assigned to act for two 17-year-old men who had wanted Clee. The pair have signed affidavits stating the claims made against Clee are false and that their names were used without their knowledge, comment or consent.
The Ministry of Justice filed the complaint with the Law Society but it originated in the PDS. Damaging emails were circulated around managers, some with loaded language. "Thought you might be interested to see what Mr Clee is now up to," wrote a senior official to another.
The ministry found itself in a bind. Clee is awaiting the outcome of complaints about the role of several officials.
A Justice spokesman yesterday said the investigation had concluded and Clee would be informed of the outcome shortly. Asked whether it was wrong to make the complaint, the spokesman said it was based on "the information available at the time and there was concern that Mr Clee had breached his professional obligations. We respect the society's determination in this matter."
Clee puts it down to bad blood. "I was definitely targeted. To me it looks like jealous kids at school. They have said, 'we don't like this guy'."
Barrister Owen Martell said Clee's clients would turn up wearing his 0800 BUSTED T-shirt or with his business sticker stuck inside their baseball caps. "He's clever and likeable but he made a lot of money and that seems to have made him some enemies."
The Legal Services Agency has confirmed it received no complaints from Clee's legal aid clients though an audit of his practice in 2010 highlighted "some area for improvement in his administration".
Clee, who is single, drives to work in his beloved black Porsche and considers his smartphone his most essential business tool, doesn't believe his high workload affected performance. At the peak of his practice he worked an average of 85 hours a week, he said. He told the Weekend Herald he may have missed a client's name being called in court a few times because he was double-booked but that was not unusual for busy lawyers.
Tony Bouchier, president of the Criminal Bar Association, a professional group for barristers, said big legal aid earners were smeared by innuendo when identifying those abusing the system would have been as easy as "tracking an elephant through snow". The ministry had not done that, he said.
Clee had good reason to complain about his treatment.
"A lawyer is obliged to report possible wrongdoing to the professional body, the New Zealand Law Society," said Bouchier. "The PDS don't see it that way. They go to the people they call their bosses, the Ministry of Justice. This is where there is a real problem with their independence.
"Of all the practices of law, the criminal law is one area where we really need a good robust independent criminal bar. The PDS say they are independent but they are not. They are an arm of the state."
Bouchier said cost-cutting drove the change. "There is a gradual undermining financially of the system of justice. This is not about Tudor Clee per se."
Clee describes his practice these days as the reverse of what it was. Legal aid makes up 20 per cent of his work.
He has reinvented himself in traffic and domestic violence law and can mostly be found up the motorway from his old stomping ground, in the Auckland District Court. But he isn't about to become a stranger to Manukau courts.
"As for me, I am back as a duty lawyer in Manukau and receiving legal aid grants," Clee said in a recent email sent from his mobile.
"To be clear, being back on legal aid is not a career move."