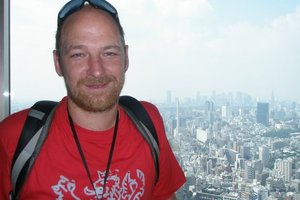 The man who killed a Sky TV video editor with one punch outside a bar in Auckland's viaduct basin is appealing against his sentence.
Kit John Murray was sentenced to five years in prison in October last year for the manslaughter of Billy Dawson during the Rugby World Cup final in 2011.
Murray's lawyer Andrew Speed said the one-punch did not constitute "extreme violence".
"The evidence at trial was of a very swift action. There didn't seem to be any build-up or anything of that nature."
Justice Anthony Randerson pointed out that Murray's punch had been strong enough to knock Dawson out before he hit the ground.
Justice Rodney Hansen added: "You can't get a harder punch then one that takes all your strength to muster."
Crown prosecutor Brett Tantrum said Murray's punch was so hard that it constituted "extreme violence" as the High Court judge had found.
Justices Randerson, Hansen and Graham Lang reserved their decision.
At Murray's sentencing last year, Crown prosecutor Natalie Walker described Murray's fatal punch as an "unprovoked, gratuitous act of violence".
The court heard Mr Dawson had been celebrating with colleagues at Auckland's Viaduct basin in the middle of the broadcaster's hectic Rugby World Cup schedule.
Mr Dawson had been drinking and left Spy Bar before colliding with a group of people.
He made a racist remark to one of Murray's friends before he was knocked to the ground and slapped about the face.
A doorman intervened and Mr Dawson was allowed to get to his feet and walk away.
But as he left he continued to yell and that's when Murray approached him.
Witnesses described Murray's punch as a "forceful" blow which knocked Dawson out before he hit the ground. One described hearing a "sickening thud" as Mr Dawson's head hit the pavement.
While Mr Dawson lay unconscious on the ground with blood coming from his face, Murray got into a taxi with his mates and headed to another bar.
Mr Dawson died the following day in hospital.
Murray gave evidence in his own defence and told the jurors that he had been acting in self-defence.
- APNZ