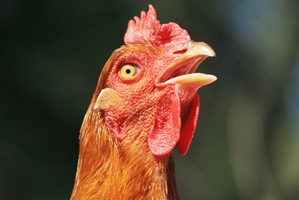 A man facing charges of beating pigs with an iron bar has now been charged with breaching a protection order and bashing 13 chickens to death.
Clayton Dovey, 49, was already going through court on two charges of ill-treating an animal after allegedly beating four pigs with an iron bar when they wouldn't get into a trailer.
The farmer from Eyrewell Forest, just north of the Waimakariri River in North Canterbury, is also charged with obstructing Canterbury SPCA officers who visited his property on April 2 to investigate complaints of "serious physical abuse" of his animals. He is also charged with possessing .22 ammunition and a knife without lawful, proper or sufficient purpose.
Police said he refused to comply with the inspectors' requests and allegedly abused and threatened them.
Dovey then allegedly left the property with the pigs in a trailer and was stopped by police near the Waimakariri River where he was found to have bullets and a knife.
He was arrested again after he allegedly bashed the chickens to death.
He is charged with "engaging in behaviour that amounted to psychological abuse" of a person subject to a protection order by "bludgeoning to death 13 chickens".
Dovey is also charged with ill-treating 13 chickens by "bludgeoning them to death with an iron bar".
At Rangiora District Court today, sitting at Nga Hau e Wha marae in Aranui, Christchurch, two new charges of ill-treating pigs were laid.
Defence counsel Keith Hales asked for a remand in order to get more disclosure from police.
Judge Tony Zohrab remanded Dovey without plea on continued bail until May 29.
- APNZ