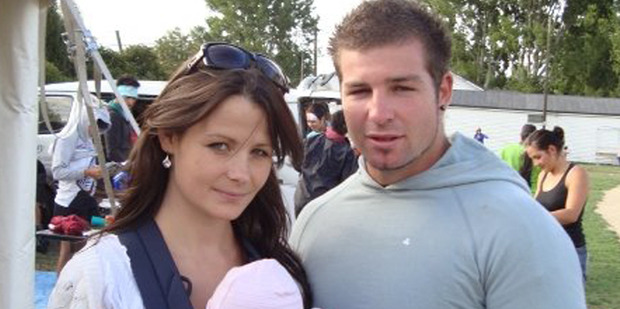 Hawkes Bay and former Hurricanes rugby star Chris Eaton remains in shock and continues to grieve for his wife after her death in an Easter weekend car crash.
But he has vowed to honour her memory by raising their daughter the way she would have wanted.
Eaton told Woman's Day magazine he would keep his wife in his heart by raising their four-year-old daughter Layla in Hawkes Bay, where he was born and raised and where the couple first met.
Hannah Eaton, 25, was killed on March 30 when the vehicle she was driving and a Ford Territory SUV collided head-on near Puriri, on SH26 between Paeroa and Thames. Her mother had also been killed in a car crash.
Eaton, 29, who most recently played for Australian Super Rugby team Western Force, said he would put his career on hold to be a full-time dad.
"I've told the Force I won't be coming back. At least for this year, we'll stay here.
It's too hard to move away with the support here. I'm just conscious about raising Layla the way I knew Hannah would like," he said.
He spoke of how some days when he had just returned from training, or was by himself, were particularly hard.
"It's hard for me looking at pictures. I've had to clean out the bedroom. I got one of Hannah's friends to help me because it's too hard," he told Woman's Day.
A month before her death, Hannah, a part time-model, graduated as a midwife from the Eastern Institute of Technology and began work for the Hawkes Bay District Health Board.
"She was a really passionate, intelligent, beautiful person," he said.
He continues to live in the Hastings home the pair bought when Hannah became pregnant with Layla but said he struggles to sleep in the bedroom he shared with his wife, opting to sleep in the lounge.
"Lately, the main memories I have are of us just lying in bed together, just hanging out, talking."
He talked to Woman's Day about the horror and raw emotions he felt when he learned of his wife's death from his Force coach and team doctor while in Sydney for a match.
"I couldn't figure out what was going on. I thought I'd been busted for something because it was game day. We walked downstairs silently and they told me what had happened. I just broke down," he said.
"It was a tough flight. I cried the whole way home with my shades on."
He was met by family members at the airport and had the devastating task of telling his daughter what had happened.
"She cried all the way back to Tairua," he told the magazine.
Hannah was farewelled at St John's Cathedral, Napier, in early April.
His daughter, he says, is learning to cope with the loss as they help each other through their tough days.
"I just can't imagine what the next couple of years are going to hold for us. But we are a team, me and Layla. We'll get through this."
For more articles from this region, go to Hawkes Bay Today