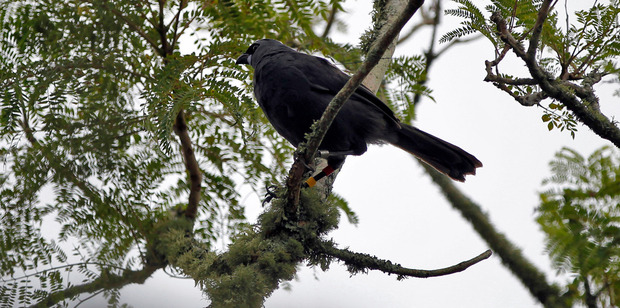 Residents of a leafy street in suburban Auckland are keeping their cats in at night and are helping Department of Conservation staff catch an adventurous and rare kokako.
North Island kokako Duncan has become a minor celebrity in the East Auckland suburb of Glendowie since he was spotted two weeks ago.
DoC staff will try to catch the bird next week and return him to the bush, 30km from his suburban home.
Ranger Hazel Speed said suburbia was not safe for Duncan.
"We have to wait until the rain stops because we don't want to risk him getting wet. When you start handling them when they're wet, their feathers get compressed, which isn't good for them."
North Island kokako have fewer than 1000 breeding pairs and are categorised as vulnerable.
Duncan was moved from North Island bush to the Ark in the Park forest sanctuary in the Waitakere Ranges several years ago, Speed said.
"He disappeared a couple of years ago. He seems to have made himself at home in Glendowie."
She had no idea how Duncan travelled more than 30km to the street, as he cannot manage sustained flight.
Resident and mum of three Ruth Hill said his birdsong was magical.
"It's like clear drops of sound, just like an organ playing."
Duncan does not mind the noise of buses or children, many of whom had visited him. Like many residents, he was not a fan of souped up cars.
A pair of kokako from Hamilton Zoo will be released in the wild at Puketi Forest in Northland this morning.