Disgraced and abandoned by his own party after his drunk and abusive behaviour, Aaron Gilmore finally has the public profile he always wanted. Deputy political editor Claire Trevett looks into his past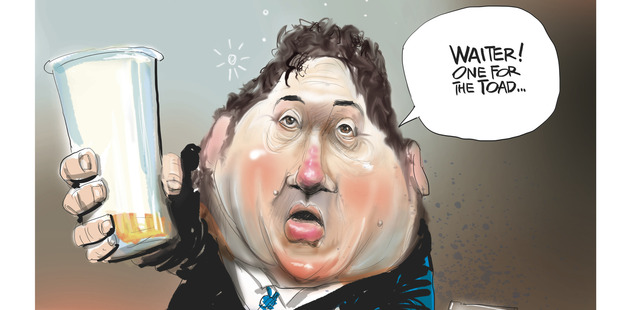 When Aaron Gilmore first got the chance to return to Parliament after Lockwood Smith's resignation, he apparently told anyone who asked that going back would mean a big pay cut as he was in line for a job paying up to $800,000 a year.
Nobody learned exactly what that company was and most believed he had made it up. Nonetheless, when one senior minister heard the claims, he joked that he planned to ring Gilmore to urge him not to sacrifice such a wonderful salary and opportunity and that National would manage to cope without him. The call was never made, Gilmore returned and that company, whether fictional or true, was left to find another recipient for its $800,000 salary.
It was a theme that popped up again and again when the Herald spoke to his former work, business and political acquaintances. Exaggeration, bordering on fantasy.
Gilmore's "crime" of getting a bit tanked and being rude to a waiter would not normally be a sackable offence, although misleading the Prime Minister's office certainly is and John Key has made it clear he feels that is the case.
But that night followed a long history of Gilmore leaving a sour taste in the mouths of those who dealt with him. It also had the effect of opening the Pandora's box on Gilmore's life. The rumours flowed, from the scandalous to the ridiculous. It was difficult to separate fact from rumour. Many were simple gossip - rumours about his approaches to women, although he was said to be "a hopeless Lothario", whose ambitions were rarely matched by his actual achievements. There was a report that Gilmore had once told another candidate he had been in the SAS. Gilmore also once put up a member's bill proposing the establishment of a space agency in New Zealand - a suggestion promptly quashed by National's vetting committee.
His tendency to exaggerate and alienate was a theme in his professional life as an energy consultant and investor as well as in his political life, according to sources, from the party volunteers who dealt with him in Canterbury to his own colleagues.
The most recent person left with that taste was Christchurch lawyer Andrew Riches, who was Gilmore's dining companion that night. Riches would not talk about that night or about Gilmore, saying he had spoken out subsequently only to protect his own credibility after Gilmore had tried to blame the entire group rather than himself for the behaviour that night.
It was not Riches who initially tipped off the Press about Mr Gilmore's behaviour, although he did confirm he had left a note to apologise.
A decade apart in age, the two were acquaintances rather than friends who met each other and bumped into each other at National Party events in Christchurch. The dinner that night was a last-minute affair - Riches had missed out on tickets to the National Party regional conference official dinner so had booked dinner with his girlfriend at the Heritage instead. Gilmore and his partner tagged along after running into them at a bar beforehand.
Many of those spoken to took some satisfaction in Gilmore's current plight. The word "karma" was used often. One party member rang back the next day to say they had thought they would feel bad afterwards about criticising him, "but you know what? I don't. I don't think I should, because he's made a lot of people's lives a misery".
It takes a lot to get the usually steadfast National Party party volunteers and committee members to speak out publicly about an MP, no matter how ill-thought of that MP is. Yet National's Southern chairwoman, Ele Ludemann, who was on the selection panel for Gilmore in 2008, did just that this week. She wrote an open letter to Gilmore on her blog telling him he was the lowest-ranked of the MPs and should have taken the hint and passed up the seat, that he had embarrassed the party enough and it was time to go.
Such an act would usually spark a mexican wave of pursed lips around the National rank and file. This time, none condemned her for speaking out. There was an almost stunned disbelief that Gilmore did not resign this week after the Prime Minister indicated he had lost faith.
One insider said Gilmore had boasted about his personal wealth, saying his investment acumen had made him enough money that he never needed to work again "so if you believe that, it means he's not in it for the money".
It is not clear exactly where Gilmore came from in 2008. One source said he simply turned up, talking about how close he was to Tony Ryall, having worked for him between 1997 and 1999 when Ryall was SOEs Minister. Ryall said through a spokesman that Gilmore had worked in his office but he could not recall how long for.
The most common theory is that Gilmore got the candidacy for Christchurch East - a safe Labour seat - because no one else wanted it. Gilmore later told a journalism student writing in Scoop that he had turned down the chance to stand in safe National seats because he was so committed to Christchurch East. None of those spoken to in National could recall him being offered other seats and one said he had struggled even to get the necessary nominees for Christchurch East. One source said that a nominee had very begrudgingly signed off on his forms "and regrets it now" because nobody else was contesting it.
"Even then his manner was such that he was not likeable at all. He's an arrogant, arrogant man and I must admit it's nice to see karma come back and bite him on the bum."
Standing in an electorate that is a safe seat for your opponent is a thankless task and it is possibly even more thankless to be working on the committee backing that candidate. Most candidates know that those volunteers are not to be taken for granted. Gilmore's arrival was a shock for the National Party rank and file in the electorate. After tending to the genteel, good-humoured law lecturer David Round, at least two of those on the Christchurch East committee walked out after experiencing Gilmore. One source said Gilmore refused to involve the committee and did not thank them for their efforts on his behalf.
Round stood in Christchurch East in 2005 and kept his toe in ready to do so again in 2008 but found his place usurped. One source said Gilmore effectively "bullied" Round out of the way by boasting about his extensive networks and the success he had had in signing up new members for the selection meeting. Round said he had surrendered gracefully and opted to seek Banks Peninsula instead, although he was unsuccessful.
"I think I may have thought to myself, 'Aaron clearly has this sewn up because he's going to have hundreds of his own people who are now members in the electorate voting for him at the selection meeting. But I've gathered since that Aaron can be a bit prone to exaggeration. On the whole I think I had a lucky escape not getting into Parliament, so I'm not complaining too bitterly."
Those described as closest to Gilmore would not talk. However, National MPs who also entered Parliament in 2008 said there was some natural sympathy for him. Those who enter in the same year tend to form informal clubs, meeting socially on a regular basis, and the year of 2008 was no different. None of the MPs would publicly go into bat for him, although there were concerns about the toll the pressure and lack of sleep would have on his emotional state - enough to warrant National's whips dispatching MPs to act as a companion to him last week. One MP said there was sympathy for him at a personal level.
"He's working through some stuff. But politically, there is much greater concern. There is a lot of support and sympathy for him. But from a political point of view he has tried and tested a lot of people's patience."
Prior to entering Parliament, Gilmore worked at General Cable Asia Pacific for two years. The company's CEO said it was company policy not to discuss former employees. One former colleague said Gilmore spent most of his time in India and other countries developing the business so was not seen in New Zealand much.
Before that Gilmore had formed Cow Power, an investment company, with a friend, James Young. The company invested in a renewable energy start-up company called Natural Systems which was developing a system to use cow manure for energy. Sources said there was a clash between Gilmore and Young and the other directors of the company and the relationship ended very acrimoniously. Cow Power subsequently pulled out in May 2007, forcing the other directors to buy back their shares. Despite the bad ending, Gilmore subsequently used that experience in his pitch to the National Party to boast about his experience fostering start-up energy companies. Young had no comment when contacted by the Herald.
Those who knew Gilmore in the lead-up to 2008 election said he was constantly talking himself up, and often described himself as the next Energy Minister. The only surprise was that his ambitions stopped there rather than elevating himself to future Prime Minister.
"He was just a bit of a poser, really, always going on about how good he was and what he was going to be in politics."
Gilmore's plight is also likely to be seen as some form of "karma" by some Labour MPs. He came in for some heckling when he turned up in Parliament last week. In June 2010, Gilmore was one of those who got stuck into Shane Jones over the ministerial credit card controversy. Speaking on the Insurance (Prudential Supervision) Bill, he spoke about the prudence or lack thereof of "a particular gentleman... One cannot insure political parties, unfortunately ... Every now and again people might get waylaid, documents could get misplaced, or things could go disastrously wrong, and in those situations one never knows what might happen or where things might end up".
Act MP David Garrett called out "vicissitudes", to which Gilmore replied, "exactly".
Of those three men, Garrett had the good sense to resign when he lost the confidence of his colleagues. Jones was the only one left with any credibility intact after those vicissitudes had their say - proof of the truism that, in politics, it's not necessarily the crime itself that results in conviction but the nature of the person who committed it.