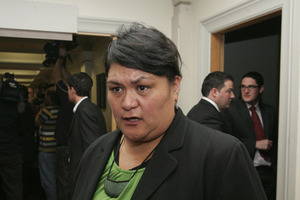 Labour MP Nanaia Mahuta will work on her tribe's governance review at the same time as her party's Maori caucus reorganises itself after Parekura Horomia's death.
Ms Mahuta, who declined to be interviewed, will serve on a new Waikato-Tainui's group with King Tuheitia and former Fonterra chairman Sir Henry van der Hayden.
The group is leading the consultation work around change for the tribe's institutions, indicating large scale change is on the horizon for the tribe's parliament Te Kauhanganui and it's executive board Te Arataura.
Both have suffered from internal tensions leading to multiple High Court actions over the last decade.
It remains unclear who in Labour will pick up the Maori affairs spokesman role left vacant because of Mr Horomia's death last week although Ms Mahuta and frontbench MP Shane Jones are likely candidates.
Labour leader David Shearer said he is likely to announce the new spokesman in the next week.
Mr Shearer said Ms Mahuta would need to apply for leave on the days she was absent from parliament and gave qualified support for Ms Mahuta's tribal role.
"From time to time, MPs take on special projects and other work outside of Parliament, such as directors of organisations or boards. My bottom line is that their commitment to their constituents and parliamentary duties must always come first and that they must make sure they manage their workload appropriately."
Mr Shearer said an announcement on who would take on the Maori affairs role would be made in the next week.
Former Labour MP John Tamihere said he didn't believe the MP could do both jobs. He said constituents had a right to know what the obligations, duties and time commitments were for the major review of the tribe's constitution.
"I think she has to make a decision that she will formally and fully commit herself to tribal politics or fully commit herself to national Labour politics. Whilst they're not mutually exclusive there is a major perception that one part of her constituency is getting far greater acknowledgement and support at the expense of the rest."
Victoria University political scientist Dr Maria Bargh said there were precedents for MPs doing work outside of parliament such as Maori Party MP Te Ururoa Flavell chaired a Te Arawa Lakes commercial board Te Arawa Management. Asked how she'd assess the health of Labour's Maori caucus, Ms Bargh said: "I guess for Nanaia she's in a difficult position because there are obviously challenges that Waikato Tainui are facing that equally desperately need to be sorted out.
"So she's probably in a bit of a bind there."