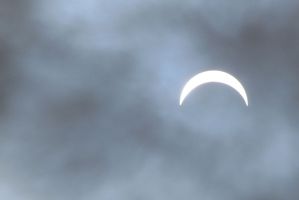 Up to 10 per cent of the sun will disappear over parts of Northland tomorrow, with a partial solar eclipse visible from the region - weather permitting.
Northland Astronomical Society President Terry Hickey said the partial eclipse would be at its peak around midday, but people should not try to look directly at the sun to observe the phenomenon without proper protective eye wear or they risked permanent eye damage.
"At its peak about 10 per cent of the sun will be obscured, so it's just a relatively small chink. But it will be visible, if the weather lets us see," Mr Hickey said.
The MetService has predicted rain and sunshine for tomorrow but warns there could be showers from midday, just when the partial eclipse will be at its peak.
"If we can't see the sun, we can't see the partial eclipse," Mr Hickey said.
He said anybody wanting to see the partial eclipse should practise safe solar viewing and never look at the sun directly without certified solar glasses. These can be picked up pretty cheaply from the Northland Astronomical Society by emailing us@northlandastronomy.org.nz.
"Anybody who bought some for the last eclipse [November last year] can use them again if they still have them," he said.
The primary path of this eclipse starts in northwestern Australia, so New Zealand is right on the edge of the range.
It will be quite a while before New Zealand gets to see another solar eclipse. The next is in 2018 but it will be visible only from the very south of the country, and only marginally. In 2028 there will be a much better solar eclipse seen across all of New Zealand, with maximum coverage in Southland.
For more articles from this region, go to Northern Advocate