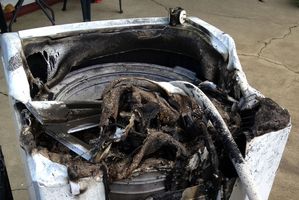 A Wairarapa family have become the latest victims of a washing machine notorious for catching fire.
The fire in Masterton on Tuesday night started in a Samsung toploader washing machine.
A family of four were forced to evacuate, but fire crews managed to stop the blaze, which destroyed a bathroom and laundry.
The incident follows Samsung issuing safety warnings to New Zealand customers about four models of washing machine earlier this month in which they recalled 36,000 washing machines sold in New Zealand that may be at risk of catching fire.
Their products have been linked to 15 fires in Australia and at least three in New Zealand.
The Masterton family were alerted by their smoke alarm while sitting down to dinner.
Vinnie van der Linde said he discovered the machine with smoke coming out and the glow of a fire underneath.
"I threw back the curtain and saw the smoke and flames coming from underneath the machine," he said.
"It definitely was very frightening, especially not being able to put it out, and just watching it grow and grow."
When he told fire crews the washing machine was on fire they asked him, "It's not a Samsung, is it?"
A spokesperson for Samsung NZ issued a statement, saying the company was "very concerned" about the Masterton incident.
"As the safety of our customers is our top priority, we will immediately initiate an inquiry into this issue and work closely with the NZ Fire Service."
Oamaru woman Kelly Harvey is still fearful of turning on her washing machine after a fire caused by her previous Samsung machine last year almost destroyed half her house. Samsung replaced the machine, but Miss Harvey is upset the company didn't tell her about the recall notice later issued for the model.
The fault on her replacement machine has been fixed by a local company but Miss Harvey said she is still left thinking "what if?"
"I'm scared now. I won't turn it on without being at home and I won't turn it on if I'm going to bed," she said.
Samsung NZ has asked any affected customers to phone 0800 855 502 / 0800 162 888 or visit: http://www.samsung.com/nz/support/rework/