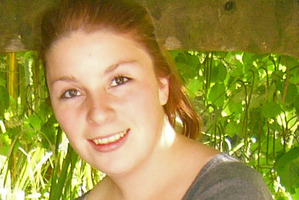 Nikki Roper strangled an ex-girlfriend while they were having sex just months before he allegedly murdered Alexsis Tovizi with a killer choke hold, a court was told today.
Roper, 24, unemployed, denies murdering the mother-of-one and is standing trial for her murder at the High Court in Christchurch.
On the third day of the trial today, a former girlfriend of Roper's gave emotional testimony over their tumultuous four-day relationship in August 2010.
The 25-year-old woman, today granted name suppression, said they were having sex when Roper asked if he could put his hands around her neck.
She told him not to, "It'll hurt," but he did anyway, she said.
Roper put both hands around her neck and started throttling her, she said.
"It felt like I was going to die," the woman recalled.
"I was trying to get away from him, fighting to get away. I couldn't breathe. I had no breath in me."
The alleged incident lasted around 10 minutes, she said.
Afterwards, she told him to leave, and Roper apologised. But she said he had no recollection of what had happened.
The pair then split up, although Roper sent her letters from prison.
Under cross-examination by defence counsel Simon Shamy, the woman accepted she made no formal complaint to police over the incident.
She didn't mention the incident when police first spoke to her over Ms Tovizi's death.
And Mr Shamy put it to her that the strangulation never happened.
"It did happen," she replied.
Earlier today, an associate of Roper, who had known him for around five years, told how he saw him a few weeks after the alleged murder.
The man, who has name suppression, told the court how he asked what the new, "dark, not faded" tattoo was on Roper's face.
Roper - who has 'Alexsis' tattooed on his left cheek - said it was his girlfriend's name and that he had "put her to sleep".
"I killed her. She was a cheating s**t," the witness claimed he was told.
He brushed the comments off as being part of Roper's "sick sense of humour".
Catherine McGovern, ESR forensic scientist, today told the jury of eight women and four men that there was strong scientific evidence to say that DNA traces found under Tovizi's fingernails came from Roper.
Fellow ESR forensic scientist Helen Poulsen carried out toxicology tests on blood samples taken from Tovizi's body.
Low level traces of alcohol were found.
Prescribed anti-depressant drugs were found in blood levels consistent with the therapeutic use of the drug, she told the court.
If someone had overdosed, the expert would've found much higher levels of the drug.
No other drugs were found in her system.
The trial, before Justice Forrest Miller, continues.
- APNZ