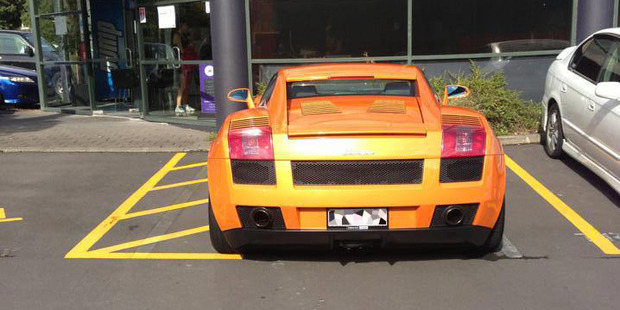 The owner of a Lamborghini Gallardo has apologised for parking in a mobility space after he was publicly shamed on the internet.
A photo of the car outside Club Fitness in Albany was published on the You've got my carpark, want my disability too? Facebook page with a caption saying the owner gave the excuse he "didn't want to get a scratch on his door".
The page has published photos and information about more than 100 drivers caught in carparks throughout the country - including two instances involving police cars and posts featuring courier vans.
Started in December by a fed-up Waikato wheelchair user, the page aims to raise awareness about the issue by encouraging its 8000 fans to name and shame those abusing the parks.
The Herald tracked down the Lamborghini's owner yesterday. The man said it was the first and only time he had parked in a mobility space, and wanted to apologise to people who truly needed the spaces.
"I sincerely apologise for parking on this occasion in a disabled park.
"While I was given permission at the time, I now realise how wrong this was and how offensive it is."
A number of police officers and courier drivers can also expect to have meetings with their bosses this week in relation to images of their vehicle being posted, too.
Road policing national manager Superintendent Carey Griffiths said police were allowed in the parks to "execute their legal duties" but he would be disappointed if that privilege was being abused.
The photos of police cars showed free regular spaces available and the Herald was told: "I have seen the same police car using the same park on a few occasions."
CourierPost vehicles featured multiple times - including one instance where a driver went to McDonald's for lunch and another where a driver used an ATM machine. A company representative said: "It is disappointing to see instances where drivers have not respected mobility spaces."
Disability advocacy groups supported the page, and backed calls to increase fines from the current $150 to between $600 and $1000.
Read more: Snapped: Drivers who abuse disabled parks