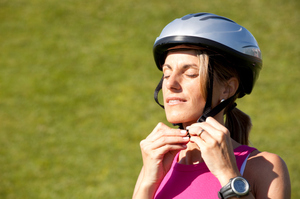 Claustrophobia, deafness, and having an abnormally large head are among the reasons cyclists have been excused from wearing a helmet.
New Zealand Transport Agency data released under the Official Information Act shows 90 people have been granted exemptions from wearing bike helmets since 2000.
This year three exemptions have been granted, all for claustrophobia and/or headaches.
In the previous 13 years, riders have been excused from wearing a helmet for medical reasons including epilepsy, spinal damage, deafness, excessive sweating, head or face injuries, respiratory problems and asthma from the strap, and being physically unable to fasten the strap.
Riders with abnormally large heads accounted for 11 exemptions, while the most common reason, headaches and/or claustrophobia, was claimed by 36 riders.
Three riders were also granted exemption between 2000 and 2003 for a "personal desire not to wear helmet".
NZTA spokesman Andy Knackstedt said the category was a historic anomaly, and would have been issued by the former Land Transport Safety Authority.
There was no record of documentation for the exemptions, and it would not be considered a valid reason today.
Exemptions can also be claimed for religious or non-medical reasons, although only seven have been granted since 2009. NZTA said earlier records for these categories were not available.
Sikh riders are automatically exempt from wearing a helmet as long as they do not exceed 50km/h and can provide proof of their religion to an enforcement officer.
Motorcycle riders can also apply for an exemption from wearing a helmet, although in the past 13 years only 16 motorbike exemptions have been granted.
Reasons cited were: hypersensitive scalps, eczema, heat or sunburn, headaches and/or claustrophobia, deafness and stress.
Applications for exemptions need to be made with supporting documents, usually a letter from a registered medical practitioner.
- APNZ