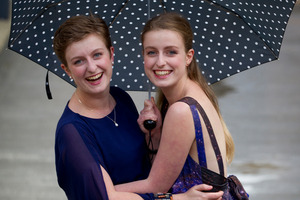 Identical twins Grace and Olivia Francis have always been close, often sharing the same classes at university.
Tomorrow they will be together again, among thousands of students graduating from the University of Auckland this week.
The Francis sisters, 21, graduate with the same qualification; a Bachelor of Music majoring in Classical Performance.
Grace - 16 minutes older - plays the piano and plans to complete her Honours degree before travelling abroad.
Younger sister Olivia is a well known violinist and is the leader of the university orchestra, a member of the Auckland Youth Orchestra and plays first violin for the Rothko String Quartet.
"We have always been very close. When we were younger it was really hard to tell us apart and we loved that," Olivia said.
"I have a freckle on my cheek and that was the only way people could tell us apart. But sometimes Grace would draw a freckle in the same place and we used to trick people."
Both girls - who attended St Peter's School in Cambridge - have plans to travel around Europe.
Even more special for the girls is the fact they will graduate alongside their mum, Marion Francis, who has completed a Masters in Taxation Law.
Graduation week
6461 graduands
7072 qualifications
128 doctorate degrees
10 ceremonies