Family forced to use food banks as debt spirals out of control and demands begin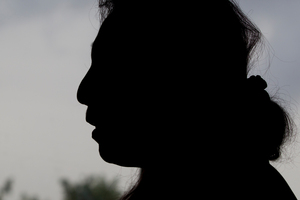 Susan Chow found herself in a hole so deep a drug overdose seemed the only escape.
Mrs Chow is a wife, a mother, a cleaner and a poker machine and roulette addict who has a crippling debt to a man she claims is a loan shark and who she claims operated for years from SkyCity casino's gaming floor. The man is understood to have had a casino VIP card.
She borrowed from the same man before - a $5000 loan for which she repaid a total of $23,000. Even though that debt ate most of her income for a year, she borrowed again last year.
That $15,000 loan has a weekly interest bill of $750 - about twice what she earns from her cleaning job. With unpaid interest compounding, the $15,000 debt would balloon, if no payments are made, to $189,642 after one year.
Mrs Chow claims there is no loan documentation other than a handwritten note acknowledging the debt, which the man asked Mrs Chow to write after she missed a payment.
The Herald has been told the legality of the loan is doubtful but it is an area that is poorly regulated and policed.
"Credit providers remain largely unregulated and have no conduct requirements, leading some to exploit vulnerable people, resulting in severe financial hardship and spiralling debt," Finance Minister Bill English said last November in announcing proposed tougher laws to target loan sharks.
Mrs Chow's husband, Rob, works but their home mortgage is fully extended and he has been told he cannot cash his KiwiSaver to pay debt.
At times they have had to use food banks.
Mrs Chow, who in January banned herself from the casino, told the Herald she took an overdose of Chinese medicine after receiving phone threats against the lives of her family. "I felt that if I die, I can save my family," she said. The suicide attempt left her ill but she did not seek medical treatment.
Mrs Chow issued a trespass notice to the man who advanced the loan, Yuan Rong Yang, after he came to her house with two other men to discuss the debt. Police attended.
She said Mr Yang organised her loans after satisfying himself she had a job and permanent address. On earlier occasions she was handed loan money in the casino carpark, while the last time money was handed over at a cafe off premises.
The casino would not comment on individual cases but SkyCity spokesman Gordon Jon Thompson said it banned those it had good reason to suspect of loan sharking. Information could come from tips, complaints or surveillance within the casino. The practice was difficult to detect because money usually did not change hands on the premises.
"We have zero tolerance of loan sharking and act quickly on information when we receive it," Mr Thompson said.
Mr Yang, who is listed as sole shareholder and director of recently registered Sunway Finance Ltd, acknowledged that he made a living arranging loans but denied being a loan shark or operating from the casino when approached by the Weekend Herald.
He claimed he arranged loans for Mrs Chow as a favour, that the money was advanced by others and he'd acted as guarantor. He said Mrs Chow had tricked him by arranging part of the $15,000 loan through a friend, something she admits doing.
He claimed he didn't go to the casino, stating that he didn't like it. However, the Herald has learned he was banned in December on suspicion of loan sharking and that gambler-help agencies have had complaints about him from other gamblers.
Mrs Chow said she has been unnerved by recent events - a visit by two male strangers who said they wanted to confirm her address, and recent visits by another man who she said told her to pay the debt, or else.
They have taken the precaution of informing their son's school and recently offered to pay $5000 (which they planned to raise by selling Mrs Chow's car) to settle the debt but were told $21,000 was required.
There is no law that caps interest rates, though the Government may seek to include restrictions in its overhaul of the Consumer Contracts and Consumer Finance Act which is aimed at boosting consumer protection.
Commerce Commission spokeswoman Allanah Kalafatelis said anyone operating a lending business who does so without documentation is operating outside the law.
Uniform police monitoring the trespass notice and alleged intimidation had told Mrs Chow the financial dispute was a civil matter.
Mrs Chow said she was told the police's Asian crime unit was too busy to interview her.
The Department of Internal Affairs said it had records of four instances of loan sharking or suspected loan sharking in 2009, six in 2010, five in 2011 and eight in 2012. These incidents were based on observed behaviours and relate to all New Zealand casinos. Casinos have a statutory obligation to minimise harm to gamblers.
But the Problem Gambling Foundation says such figures under-present the amount of loan sharking that goes on. "We certainly know of similar incidents [to Mrs Chow's] and rates," said chief executive Graeme Ramsey.
Casinos were fertile ground for loan sharks, and agreements were usually verbal and often backed up with threats, Mr Ramsey said. "That's why people don't want to speak up, they are worried about their safety." So, official figures were light.
"[Loan sharking] just accelerates big and complex problems. There are real health, crime and child-neglect implications, and that's a price everyone in the community pays."