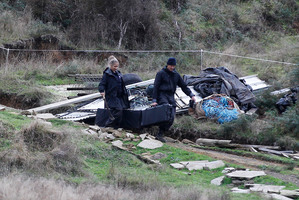 Police have found items of interest at a remote and isolated Taranaki property that is believed to be the home of their prime suspect in the murder of road worker George Taiaroa.
Officers investigating the March 19 murder of Mr Taiaroa, who was shot dead while directing traffic at Atiamuri, yesterday scoured the home of a Taranaki man, understood to be in his early 40s, at the Pohukura Saddle about 5km south of Whangamomona.
Others could be seen carrying buckets of debris from scrub across the road while a small group of officers walked in a line up a hill about 500m from the barn-like home that has no windows and whose boundaries are surrounded by 2m-high deer fences.
The search is understood to be the second of the property, which is on hilly terrain covered in scrub, after police swooped on it about five weeks ago.
Bay of Plenty police communications manager Kim Perks said police had found items of interest to the inquiry during their search but would not reveal what those were.
The find is the second in a week after police found other items in bush near Benneydale late last week, which they believe were dumped on the day Mr Taiaroa was shot.
When asked if the owner of the property had been spoken to or was co-operating with the police inquiry, Ms Perks said police would not be commenting on any individuals.
She would not say what led police back to the property, which she said was one of a number of locations they had an interest in.
Police were to continue their inquiries at the property this morning.
A man who lives on a neighbouring 200ha sheep and beef farm said police confirmed to him the property owner was their main suspect.
"I asked them if he was still their main suspect and they said 'yes, he is'."
He had seen his neighbour just once since the shooting when he briefly saw him on his property a few days after the incident.
"But since then, there's been no sign of him at all."
He said detectives came to his home early yesterday morning to use his phone because of a lack of cellphone coverage in the area.
"I asked them what they were looking for or if they found anything and they weren't really letting on."
Anyone with information is asked to contact the investigation team directly on 0800 Kingswood (0800 546 479) or anonymously via Crimestoppers on 0800 555 111.