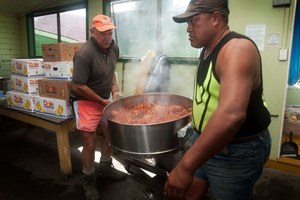 Feeding the thousands who are coming through to Tolaga Bay this week requires specialised equations from Hauiti Marae.
Between two major groupings of hundreds of mourners to come on yesterday for Parekura Horomia's tangi, Michelle Tangohau-Collis was resetting her kitchen, and four kai marquees.
There were small but necessary tricks for managing the workload, she said.
"We send someone to count the ope [group] and they count the kaikorero [orators] as well - that tells us how long they're going to be."
A rough guide for timing sittings of meals was easy, she reckoned: "So, eight kaikorero, three hours."
Tuhoe, Ngati Tuwharetoa and Ngapuhi were the big iwi who came in numbers for the second day of the tangi.
While the kitchen had expected to do five meal sittings in the day, the size of three visiting delegations meant by 3pm only two had been completed.
Four busloads turned up just before sunset on Wednesday meaning the food planned for the immediate 300 or so whanau went to the visitors, leaving terotero (sheep intestines) and the day's leftovers for the family.
"There was heaps of kai left over but to top it up we had terotero going, not everyone likes it but you just got to run with the punches."
Surrounding marae are cooking certain foods and sending it to Hauiti.
The army has arrived with its transportable kitchen and worker bees.
Ms Tangohau-Collis groaned good-naturedly when asked about planning for the hakari, the feast on Saturday. "Oh, we're not even going to go there because we have to get through these days first. Hakari is going to be huge."