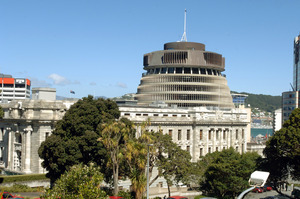 A man accused of threatening politicians and other high-ranking officials has been warned by a judge not to contact any of them ahead of his trial.
West Coast man Robert Frank Terry, 59, is waiting to stand trial at Greymouth District Court on six charges of threatening to damage property.
He's alleged to have threatened, in letters, Justice Minister Judith Collins, and five others including Chief Justice Dame Sian Elias, West Coast-Tasman MP Damien O'Connor, Ministry of Justice chief executive Andrew Bridgman, and New Zealand Law Society president Jonathon Temm.
As part of his bail conditions, he's not allowed to contact any Members of Parliament, or communicate or attempt to communicate Parliament or anyone working for Parliament, unless he's making submissions to select committees.
But he appeared in the dock at Christchurch District Court today accused of breaching bail.
The Crown said Terry had phoned Lianne Dalziel MP's Christchurch office, the Green Party, and MP Megan Woods because he wanted to talk about "training more young people'' at the Government Communications Security Bureau (GCSB) and Security Intelligence Service (SIS).
The Crown today asked Judge Jane McMeeken to issue Terry a warning, reminding him of his bail obligations.
Judge McMeeken asked Terry if he understood his bail conditions.
"Your honour, the Crown cannot stop me from contacting Parliament,'' he said. "Are you aware of the 1688 Bill of Rights UK?''
The judge said she was aware of the ancient Act on rights and liberties but was also aware of Terry's bail conditions.
She gave him a warning to adhere to his bail conditions, and remanded him on bail to June 24, when he will stand trial at Greymouth District Court.