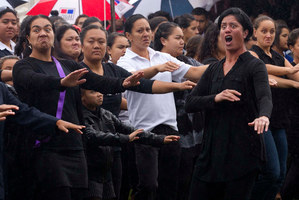 The Maori Party, Tuhoe and Government Department staff who worked with Parekura Horomia when he was a minister are among the groups to visit Hauiti Marae this morning for his tangi.
Maori Party co-leader Tariana Turia was weeping as she walked on to the Marae early this morning.
Her colleague Te Ururoa Flavell said afterwards that although Mr Horomia had led the Foreshore and Seabed Act that drove Mrs Turia to quit Labour and set up the Maori Party, Mr Horomia had also provided valuable counsel when the Maori Party was in its fledgling stages.
"Most people suspected there was a fair bit of tension but it was never like that with Parekura. He was one of the first people to come when we first arrived in Parliament and said, 'Look, I'm here to help with anything'. He'd just come and sit down at the table.
"None of those barriers were put up outside the political forums. We might have had different views, but the great thing about him was that we just sat down together as Maori, discussed things as Maori.
I suspect in my heart we all wanted exactly the same things.
"He was a wonderful man with a wonderful heart and as you can see from the people coming, well loved throughout the country."
He said the party would not start to consider whether to contest the Ikaroa-Rawhiti by-election until next week after Mr Horomia's tangi.
Mr Horomia died on Monday and his tangi is taking place at Hauiti Marae in Tolaga Bay.
His funeral service and burial will take place on Saturday. Most iwi have sent delegations to the funeral to pay tribute. Tuhoe arrived this morning as did former staff and colleagues of Mr Horomia from the Department of Labour.
Former National Party minister Georgina Te Heuheu also visited today, and National's Tau Henare arrived yesterday.
Prime Minister John Key is expected tomorrow but is unable to attend the service on Saturday.