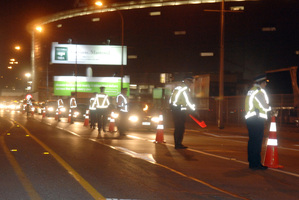 Police have made a rare legal move to overturn a judge's decision giving a drink-driving sportswoman a discharge without conviction and permanent name suppression.
High Court Justice Christopher Allan has been asked to consider the case against the sportswoman, and Crown Law is seeking to have a conviction recorded against her and her name suppression lifted.
In the High Court at Gisborne a lawyer for the woman argued the "frivolous" appeal should be dismissed and said a conviction would affect her opportunities to compete at an international level.
Auckland lawyer Zahir Mohamed, who specialises in drink-driving cases, accused police of buckling to the public backlash after the woman's case was reported in the media.
Mr Mohamed told the court the appeal resulted from an "unholy alliance between police and the media", and the original decision should stand.
A spokeswoman for police yesterday said there was "absolutely no pressure whatsoever from the media at all".
"The decision [to appeal] was based on a review of the case and taking into account all legal facets of it," she said.
The spokeswoman said appeals of that nature were rare.
Judge Graham Hubble sparked outrage in January when he discharged the woman without conviction in the Gisborne District Court and granted name suppression.
She was caught driving with a breath-alcohol level of 801 micrograms per litre of breath - double the legal limit of 400mcg.
Her lawyer, Marcia Insley, said the woman had no previous convictions, had reached an "exceptional level" in her sport and had been offered a chance to compete overseas.
Judge Hubble said Ms Insley's submission was "persuasive", and he agreed to the discharge.
Police obtained permission from the Solicitor-General to appeal against Judge Hubble's ruling following criticisms by a Queen's Counsel, a former police officer and anti-drink driving campaigners.
The sportswoman, who is overseas, will be called back to appear in court if Justice Allan rules the case should be heard again.
He could also rule that a conviction be recorded or could dismiss the appeal.
He will also decide whether the suppression order should remain, be reconsidered by Judge Hubble or be lifted.
Justice Allan said he intended to reach decisions this month.
Auckland University law professor Warren Brookbanks said the legal test in the appeal would be if the "sentence was manifestly inadequate".
He said Crown appeals against sentences were rare because police were "usually prepared to accept the decision".
- additional reporting Gisborne Herald