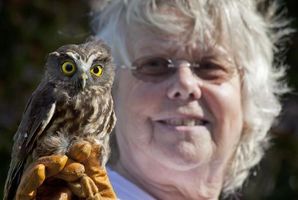 Holden the morepork well and truly earned his name when he miraculously escaped death after being hit by a car and driven about 20km stuck in the engine well.
Ohauiti Native Bird Rescue Haven founder Chrissy Jefferson had Holden delivered to her by a Katikati couple on Saturday after his near-death experience the night before.
Mrs Jefferson's first instinct was to name the bird Lucky but the couple already had a more fitting name for the tough creature.
"We named him Holden because he was hit by a Holden and I reckon he was holdin' on really tight," she said.
"Miraculously, he's got no broken bones. He's just got a little bit of soft-tissue bruising where he hit the car. He was pretty traumatised but he ate all his food on Sunday night."
The couple were driving on Upland Rd on their way to the supermarket on Friday night when they hit the bird.
"The morepork went across the front of them and they hit it with the car. They got out to check and couldn't find it anywhere," Mrs Jefferson said.
The couple arrived at the Katikati supermarket, about 20km away, and got out of the car in time to see the morepork drop out of the engine well.
They borrowed a blanket from a builder at the supermarket to catch the bird.
"They have extremely sharp claws," she said.
The pair took him home and nursed him for the night before taking him to Mrs Jefferson the next day.
"It's such a miracle that it's not seriously injured and how it managed to hold on for 20km."
Holden was already looking bright and healthy and would be ready to be released back to where he came from in a couple of days, she said.
"He's doing really, really well. He's bright and he's aggressive, which is really good. He's feisty."
Mrs Jefferson has seen thrushes survive a trip in the engine well of a car but never a morepork.
"They are very private birds," she said.
For more articles from this region, go to Bay of Plenty Times