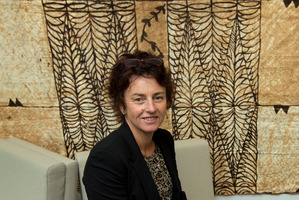 An emotional Dame Susan Devoy has spoken of her turbulent start as Race Relations Commissioner at a conference in Auckland.
Since the former squash star's appointment in March she has been accused of racism for past comments about Muslim women wearing burqa and Waitangi Day. She has also been under fire this week for a speech she gave at a charity event, which has been described as a 'train crash in slow motion'.
Devoy was the keynote speaker at the Ethnic People's Advisory Panel's conference on racism and discrimination at the Auckland University of Technology today and has reportedly choked up during a speech.
Near the end of her speech Dame Susan became emotional, as she explained her hope that her four sons will be able to tell their children their mother made a difference, Newstalk ZB reporter Annabel Reid said.
She also told the crowd a lot has been said about her appointment, but it is unfair to prejudge someone.
This week, Dame Susan added fuel to the fire during an appearance at SkyCity Hamilton on Friday where she reportedly said the nature of her work was "same sh**, different day".
She then went on to describe her Wellington staff as "difficult" and make jokes about men with sausages in their pockets.
She said the criticism had been "unfair" but the attention was valuable.
"It shows people care about human rights, it shows many people want, and all of you here today want, a tolerant and inclusive city and society."
Auckland Mayor Len Brown offered his support and described her as a woman with a "real heart; a heart for the people."