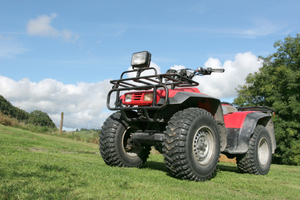 Police are investigating after a 12-year-old boy was hospitalised falling off a sled being towed by a quad bike.
St John responded to a call from a member of the public about 10.15am after the Gisborne boy was ``ejected'' from the sled along a beach on the Mahia Peninsula, Hawke's Bay.
They took him to a helicopter landing pad by Mahia Fishing Club where he was flown to Hawke's Bay regional hospital for treatment on moderate head and neck injuries.
A spokeswoman for Hawke's Bay District Health Board said the boy was assessed, treated and discharged this afternoon. Police are now investigating.
A spokeswoman for the eastern police district said a probe was launched because the incident happened on a beach, which is deemed a public road.
The boy and those involved were wearing safety gear, including helmets, she said.
The family has been spoken to by officers and the investigation is ongoing.
A 6-year-old girl was seriously injured in a quad bike smash at Waimarama, also in Hawke's Bay in January.
Daniel McGregor, 28, has appeared in court to admit drink-driving and crashing the bike, injuring himself and his passengers.
His daughter, Ashlee Shorrock suffered face, neck, spine and back injuries in the January 2 crash.
A recent spate of quad bike fatal accidents and injuries over the long, hot summer has prompted calls to introduce laws to make using them safer.
Coroner Brandt Shortland was prompted to comment in the case of one farmer's death: ``Every Kiwi in New Zealand thinks they can ride a quad bike - just jump on and ride but it's far more dangerous than that ... there's no room for mistakes.''
On average five people die and 850 are injured while riding quad bikes in New Zealand each year.
- APNZ