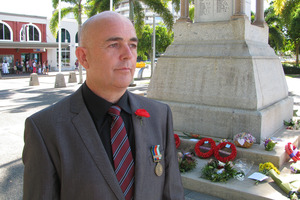 As New Zealand and Australia yesterday remembered Gallipoli and the Anzac tradition the battle inspired, a new campaign was launched against a ban on expatriate Kiwis serving in the Australian military.
The ban exists despite extensive Australian efforts to recruit foreigners to fill thinning defence ranks, including Kiwis still living in New Zealand, who are offered fast-tracked citizenship after only three months' service.
In the latest twist to the long-running bid to end discrimination against New Zealanders who arrived in Australia after February 2001, a group of Queensland lawyers is backing a former Kiwi soldier's efforts to join the nation's army reserve.
Duncan Sandilands, whose four-year fight continues despite setbacks including an unsuccessful appeal to the Human Rights Commission, has impeccable Anzac credentials.
His great grandfather was Lord Mayor of Melbourne from 1868 to about 1872 - when the family moved to New Zealand - his grandfather fought in the Boer War and alongside Australians at Gallipoli, and in the NZ Defence Force he trained with Aussies at home, in Malaysia and Singapore.
Mr Sandilands, 53, a retired mining engineer, has been living in Australia since 2004, but cannot join its defence force because of the unilateral decision by former Liberal Prime Minister John Howard to clamp controls on Kiwis in an attempt to block backdoor migration of Pacific Islanders and Hong Kong Chinese.
The change removed access to welfare, unemployment, education, disability and other support services - most recently the new national disability insurance scheme - although some state bans have been successfully challenged in court.
Expatriates living in Australia on the "non-protected" visas applied to all New Zealanders arriving since 2001 also deny Kiwis recognition as permanent residents, regardless of how long they stay, and prevent their gaining citizenship.
Defence Force rules exclude expats because they are not Australian citizens.
Supported by the legal group Queensland Lawyers, Mr Sandilands is now trying to persuade the Government to change the requirement and allow expats to sign up.
The campaign aims to have the ban removed before the September 14 election, or win a commitment from Opposition Leader Tony Abbott to push it through if he wins power.
The Defence Force is struggling to find recruits to make up for annual attrition rates of between 6 per cent and 9 per cent, and runs expensive drives overseas.