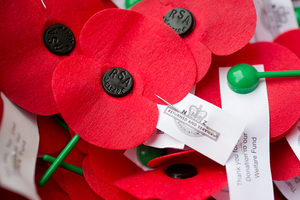 Members of the New Zealand Army Band threw gaffer tape at a thief who snatched a bag of instruments before Christchurch's dawn parade this morning.
Band member Lance Corporal Kevin Hickman said he had only walked about 15 metres after setting his gig bag down in Cranmer Square when someone told him it had been taken.
A man on a bike had swiped the bag, which contained a trumpet and two cornets worth about $15,000, and weighed about 15kg.
"I was pretty surprised someone could take off with that,'' he said.
Lance Corporal Hickman said two of the band's sound engineers tried to chase the thief as he rode away. "They threw a roll of gaffer tape at him and hit him but he still managed to escape,'' he said.
Police were alerted and a man was arrested in Hagley Park a short time later.
"Big-ups to the police, I got my gear back and my instruments back in time for the parade.''
Lance Corporal Hickman said he was disappointed that someone would stoop to such a level on a special day.
"There were veterans arriving and it's a special day for them and a special day for all New Zealanders, so to think that someone would stoop to that, it's a bit sad.''
Inspector Mike Coulter said the man arrested was alleged to have snatched the bag as the band were setting up about 5.20am.
A dog handler, who was waiting at Hagley Park, saw the man and was able to arrest him.
"A 35-year-old man Christchurch man has been arrested for theft.''
The man obviously hadn't "computed'' how many law enforcement officers would be in the area, Mr Coulter said.
- APNZ