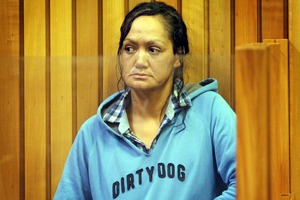 A woman charged with manslaughter over the methadone death of a nine-year-old Raetihi boy can now be revealed as the child's mother.
Name suppression was lifted today for Claudine Michelle Herewini, 42, when she appeared in Whanganui District Court.
She is charged with the December 7 manslaughter of her son, Antony Christensen, by administering the Class B drug methadone.
Herewini appeared in the dock wearing a blue hoodie, looking pale and ill. She leaned against the wall throughout her one-hour appearance and occasionally smiled or waved to a row of her supporters.
She was remanded in custody to reappear on June 24 after Judge David Cameron refused bail. He suppressed all the details canvassed during her lengthy bail application.
Her counsel, Debbie Goodlet, said Herewini's case was unlikely to be heard until next year.
For more articles from this region, go to Wanganui Chronicle