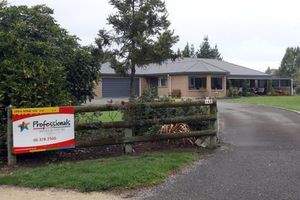 The Masterton home of an elderly couple who fell for an overseas lottery scam and then borrowed repeatedly from friends to pay their scammers is finally on the market.
Trevor and Bev Oliver first promised to sell their Willowpark Drive property back in July last year after the Times-Age reported details of how they had fallen for a Ghanian lottery swindle, and had subsequently embarked on many months of hitting up friends and acquaintances for cash to feed the swindle.
The Ghanians had originally contacted Mr and Mrs Oliver on-line telling them they had won 850,000 euro ($1.3m) in a lottery but would have to pay money to cover taxes and fees before the money was forwarded to them.
The couple poured all their own savings into the scam and then tens of thousands of dollars they had borrowed but no lottery win was ever forthcoming.
Despite being told by the staff of this newspaper and by many others that they were being swindled the Olivers continued for months to send money overseas in the hope they would eventually receive the big lottery prize, but conceded if that didn't happen they would sell up to repay money they owed.
The Willowpark Drive property will be sold at auction on May 24 unless a buyer is found before then.
Mrs Oliver refused to speak to the Times-Age yesterday saying only that the pending house sale was "none of your business" and she hung up the telephone when asked if the couple had received any offers on the property.
The three-bedroom home is sited on a hectare of land and fenced into two paddocks.
Mr and Mrs Oliver's property is being offered by The Professionals.
There is no indication of what the Olivers would hope to realise on the sale.
For more articles from this region, go to Wairarapa Times-Age