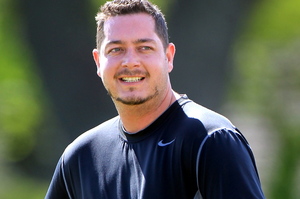 One of the men accused of assaulting cricketer Jesse Ryder has chosen to fight the charges and has elected to stand trial by jury, a court has been told.
The pair appeared in court this morning, where their identity suppression was continued.
The men, aged 20 and 37 and both from Christchurch, will have their identities remain secret at least until a suppression hearing on May 7.
Ryder, 28 was attacked outside Aikmans bar in Merivale, Christchurch, after a season's end night out with his Wellington Firebirds' teammates on March 28.
He suffered head and lung injuries and spent two days in an induced coma at Christchurch Hospital.
The older accused, who was charged with assault and injuring with reckless disregard for the safety of others, had elected trial by jury, his defence counsel Jonathan Eaton told Christchurch District Court today.
He was remanded on bail until June 21.
The younger man was remanded on bail without plea on two charges of assault.
The suppression hearing on May 7 has been set down for both parties, as well as the media, to "thrash out" the issue, Judge David Saunders said.
Judge Saunders said the issue of suppression was not straightforward.
He said while he understood the "media's desire to have this (case) in the public forum and all sorts of material before the public", it was not appropriate for it to happen today, given the time needed to address it properly.
In a separate case, Christchurch man Jordan Mason, 28, has been charged with breaching the suppression order by posting a video online of Ryder's two alleged attackers online and is due in court on April 29.