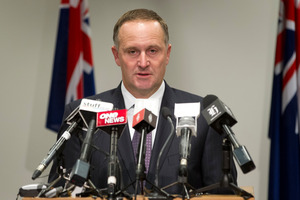 He had originally said he had the phone number on hand. Then yesterday he said he did not have a clue how he had come to have the number. Then he said he had not had the number. Then he said he said he had rung directory services to get the number. Then he said he was not sure whether he or one of his staff had rung directory.
Confused? MPs were variously confused, bemused and amused as Parliament was yesterday treated to John Key's ever-changing story of how he got hold of Ian Fletcher's phone number to ring him to see whether the old family friend might be interested in applying for the job of director of the Government Communications Security Bureau.
The differing versions offered by the Prime Minister epitomised the huge fuss over what Key knew and when about the GCSB helping the Security Intelligence Service to spy on New Zealand citizens or residents when the current law expressly forbids the agency from doing so.
Politicians - certainly not Prime Ministers - are not supposed to behave in this fashion. They are supposed to have one story and stick to it come hell or high water.
The Opposition has accordingly delighted in Key's seemingly varying accounts of what happened and when before the whole shemozzle became public knowledge.
Labour's Grant Robertson asked Key whether he could understand why New Zealanders were struggling to believe anything he had to say on the matter when he could not even say how he came to have Fletcher's phone number. Key's response simply added to the confusion.
In some respects, the Prime Minister is his own worst enemy. Having warned the news media last week that he would be much more careful about how he will answer questions, he yesterday threw caution to the wind.
But quite possibly with good reason. Most people could not really give a toss about how Key got hold of Fletcher's phone number.
The very real danger for Labour is that in building a case against Key it is thus seen to be fixated by relative trivia; that Labour is so obsessed with destroying Key as a political force that it can no longer see the wood for the trees.
Debate on this article is now closed.