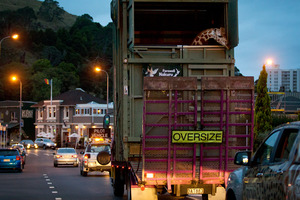 Nakuru the giraffe yesterday became the latest Kiwi to make the move to Australia in search of greener pastures.
The 3m, 480kg giraffe was loaded into a specially made crate at her Auckland Zoo home and then driven through the city to her waiting ship, snacking on a leaf as her convoy stopped at traffic lights.
Nakuru, who was born at the zoo 15 months ago, will go on a five-day voyage to Melbourne where she will be kept in quarantine for a month before going on to Melbourne Zoo.
She is part of an Australasian breeding programme for giraffes, and will be paired with a male giraffe at the zoo to ensure the giraffe gene pool does not get too small.
Pridelands' team leader at Auckland Zoo, Nat Sullivan, who was responsible for making sure Nakuru was "crate trained" for the trip, said shifting a giraffe across the Tasman was no easy feat.
"Logistically this is a huge operation - it takes months and months of preparation; everything from transport to - my biggest concern - getting her to go into the crate, which involved months of training."
Ms Sullivan, keeper David Crimp and vet Bethany Jackson will travel with Nakuru on the ship.
- APNZ