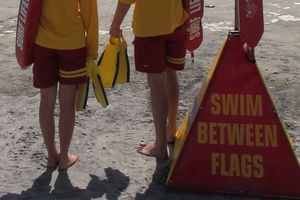 Northland lifeguards were involved in 74 rescues on the region's patrolled surf beaches over summer.
A Northland surf lifeguard leader is urging beachgoers to get more water savvy before heading to the coast in light of the region's provisional figures being released.
Surf Lifesaving NZ numbers show that Mangawhai Heads lifeguards were involved in the largest number of rescues - 27 - followed by Whangarei Heads with 23.
Mangawhai Heads Volunteer Lifeguard Service president Mike Ferguson said this summer was particularly busy for the club, for two main reasons - more easterly winds bringing in bigger waves and an increase of visitors, particularly immigrants, who had little or no water safety nous.
"As Northland beaches are becoming more popular we are seeing quite large groups, particularly from our immigrant population, coming to the beach who have very little water awareness," he said.
"That is echoed in the drowning statistics this year, with somebody drowning every three days. If people had better water awareness those figures would be lower and, as Mangawhai becomes more accessible out of Auckland, we get a beach population that's growing every year."
Mr Ferguson said lack of funding was another major frustration for all surf patrols in Northland.
A big concern was a growing number of people who refused to swim between the flags on the beach.
Mr Ferguson said the flags were put in place because the lifeguards - who know the beach well - have decided that is the safest place to swim at that time.
"If people's swimming ability is low, they shouldn't be going into the water out of their depth.
"To many people, Mangawhai can look relatively calm and okay to swim in, but there can be hugh currents moving out there," he said. "This summer we have had people turning up and taking their children straight down to the water outside of the flagged area, and they ignore both the flags and the lifeguards who are trying to help them."
Mr Ferguson said it seemed to be a combination of ignorance and arrogance, which was frustrating.
"We are finding as lifeguards it's becoming more and more difficult to patrol. We are getting people who won't swim between the flags yet, when they get into trouble after ignoring us, they expect to be rescued - which we will always do - but it's the volunteers who then have to put their own lives at risk to go out and rescue them."
Northland surf rescues:
Mangawhai Heads - 27
Whangarei Heads - 23
Ruakaka - 8
Waipu Cove - 8
Far North (Ahipara) - 7
Baylys Beach (patrol location) - 1
For more articles from this region, go to Northern Advocate