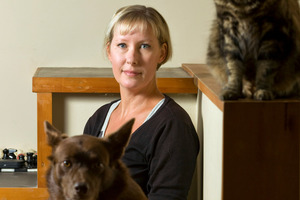 Pet owners are being warned that identity microchips in their precious animals may be faulty after flaws were detected in more than 1,000 chips. Some veterinary clinics are asking clients to take pets for checks after more than 1600 chips needed replacing in six months.
The owner of Grey Lynn's VetCare animal clinic, Dr Alex Melrose, said he scanned most animals and noticed a few chips were not reading.
"Initially, the chips work and a lot of these pets were coming back over the next year or so and suddenly, bang, it stops working. After a while it started to become apparent that it was only Virbac chips that were failing."
Belinda Frederiksens, who has four cats and a dog, is concerned to hear of the recent failures. "I do rely on them if the animals go missing."
The Companion Animal Register has confirmed 97 per cent of the microchips needing replacement were made by one brand. The register replaced 1610 chips between June last year and February this year.
Virbac did not respond to requests for comment but has agreed with clinics to replace faulty chips free.
Melrose describes microchips as extended leashes. "We need to make sure those pets that people thought had an 'extended lead' really do, and replace chips with as little hassle as possible."