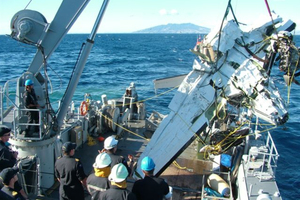 A private memorial service will be held for 2degrees chief executive Eric Hertz and his wife Kathy in Auckland this week.
The pair will be farewelled at the Auckland University of Technology on Thursday after navy divers recovered their bodies from the wreckage of their crashed plane off the Kawhia coast at the weekend.
The service will be a "private event for Eric and Kathy's friends, family and work colleagues".
One body was brought up from the upturned plane wreckage 56 metres below the surface on Saturday and a second body was retrieved yesterday.
Lieutenant Commander Trevor Leslie, the commanding officer of the navy's dive team, said he was always confident of a recovery after the plane crashed late last month.
- APNZ