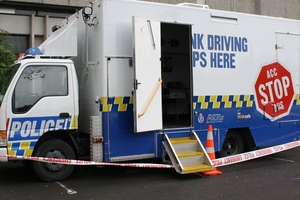 A shy and timid woman became so anxious when she was stopped for an alcohol breath test that she collapsed in the police booze bus and died of arrythmia in her heart.
Coroner Gordon Matenga, in findings published today, said trauma in Elizabeth Jill Gilbertson's life before she emigrated from South Africa to New Zealand would have contributed to her anxiety when she was stopped by police on June 3 last year.
Ms Gilbertson, 56, who had moved to New Zealand only six months earlier, had survived an armed mugging and threats of violence against her on a number of occasions in the years before she left South Africa.
Her brother, Dr Ian Gilbertson, told the inquest his sister "would have been terrified by the events that preceded her death".
Ms Gilbertson had been stopped on Cambridge Rd at Hamilton and gave a passive breath test that indicated the presence of alcohol.
She was required to undergo a breath screening tests but, despite a number of attempts, she was unable to complete the test.
An officer at the booze bus said she appeared "nervous but not intoxicated".
She collapsed and hit her head on a bench seat and was administered first aid by police before she went into cardio respiratory arrest.
"Despite aggressive efforts to revive her, Ms Gilbertson could not be resuscitated," Coroner Matenga said.
"I find that Ms Gilbertson was a shy, timid and anxious person who would have been terrified due to previous violent experiences in South Africa and also due to her nature."
Dr Gilbertson said his sister was "grateful to be [in New Zealand] and enjoying the benefits of being close to her extended family after years of separation".
He thanked police for how his sister was treated and pointed out that she was not a drunk driver.
"Dr Gilbertson described how confusing it could be to recent immigrants to come across a police road block, especially at night, and asked to perform duties that are quite foreign and often with minimal or any explanation," Coroner Matenga said.
"None of this background was known to police at the time but Jill Gilbertson's personal characteristics have contributed to her death."
Coroner Matenga said there was "no evidence to suggest that Ms Gilbertson was treated with anything but courtesy and respect".
"Rather, it is a recognition of Ms Gilbertson's idiosyncrasies."
An expert witness who gave evidence to the inquest said there was "not much more that could have been done in the circumstances".
Dr Simon Stables, clinical director of the New Zealand Forensic Pathology Service, suggested police could consider carrying an emergency defibrillator but said there was nothing he could suggest to police which might help them predict or spot any warning signs that someone was about to collapse.
He said it would not be unusual for people to become anxious when stopped by police.
Dr Gilbertson suggested police should consider making more use of recording devices such as CCTV so they could potentially review practices and procedures.
Coroner Matenga did not make any formal recommendations but said both suggestions to police were "worthy of consideration".
- APNZ