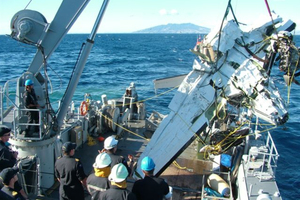 The head of the navy dive team says recovering the bodies of the 2degrees chief executive and his wife from the wreckage of a light plane crash has been difficult and was "tinged with sadness".
Eric Hertz and his wife Kathy were killed when their plane crashed off the Kawhia coast last Saturday.
One body was brought up from the upturned plane wreckage 56 metres below the surface on Saturday and a second body was retrieved yesterday.
Lieutenant Commander Trevor Leslie, the commanding officer of the navy's dive team, said he was always confident of a recovery.
"There's definitely some satisfaction there. Obviously it's been a hard week but it's also tinged with sadness," he told Newstalk ZB.
"The bottom line is we want to get these people back to their family. We achieved that, which we're happy with."
Lt Cdr Leslie said they had recovered "a lot of" the plane wreckage, which has now been handed to the Civil Aviation Authority (CAA).
"The wreckage we got, I'm confident the CAA will gain some benefit from it."
Lt Cdr Leslie said there were some challenges due to the active sea swell, but the dive team "got there in the end".
"There's some strong bottom currents there, underwater visibility wasn't too good. That, combined with the depth and combined with the nature of the wreckage and the entanglement hazards the divers faced, so there were definitely some challenges."
Waikato police operations manager Inspector John Kelly said there would not be any further diving as part of the recovery operation.
The wreckage retrieved yesterday was a "significant portion" of the plane, including the engines, he told Radio New Zealand.
It would be transferred to Auckland, and was enough for CAA to carry out their investigation, he said.
The bodies recovered from the wreckage will be formally identified and a coroner's inquest carried out.
CAA spokesman Mike Richards yesterday said the wreckage of the Beechcraft plane would be held in a secure workshop at the navy base at Devonport for 72 hours, where it would be cleaned of saltwater and other debris from the ocean floor.
It would also be closely examined for any initial signs of non-impact mechanical failure or other damage.
The wreckage would then be moved to the CAA's secure workshop in Lower Hutt where a detailed examination would continue.
There were three CAA investigators working on the accident.