But funding for research into deadly tree disease is running out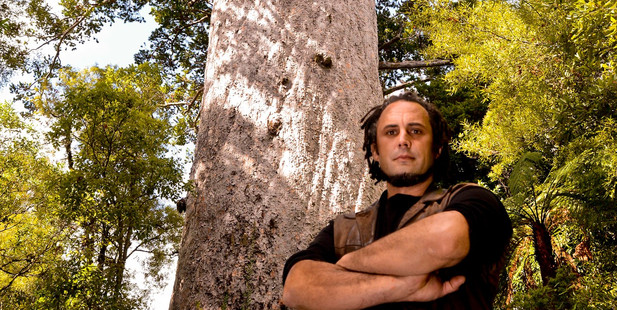 Waipoua Forest and its world-famous giant kauri Tane Mahuta could be closed to the public to protect the trees from a fast-spreading killer disease.
Te Roroa iwi has talked with officials about imposing a rahui, or ban, as a drastic measure to protect kauri from a deadly fungus-like disease in the 12,000ha Northland forest home to Tane Mahuta. Track bans are already in place in Auckland.
About 250,000 visitors pass through Waipoua every year, most stopping to gaze at the 2000-year-old tree with its 4.4m-diameter trunk, as well as the shorter but stouter Te Matua Ngahere. Tane Mahuta is on the Automobile Association and Tourism New Zealand's lists of "must dos" for international visitors.
Kauri dieback is caused by Phytophthora taxon agathis (PTA). A small tree succumbs in weeks; a large one in five to 10 years. But government funding of research into PTA runs out next year.
Te Roroa spokesman Will Ngakuru said a rahui was a "precautionary measure" being considered to save the forest.
"We don't want to stop people going to the forest but we do care about the trees."
PTA is carried in soil. A rahui would likely slow the disease's spread on tourist's shoes, buying time to research preventions and cures. Other measures include sanitation stations, boardwalks such as the one around Tane Mahuta, and pig culling.
Ngakuru represented the iwi on a multi-agency kauri dieback team that included councils and government. He said Waipoua may have been a launchpad for kauri dieback disease after infected seedlings raised in the New Zealand Forestry Service nurseries between the 1940s and 1960s were distributed to other forests. It was possible PTA entered the forest after World War II when the army brought contaminated machinery from the Pacific Islands.
Department of Conservation Kauri Coast area manager Mei Hardy-Birch said any decision on closing the forest would be made as part of "robust public debate". Ultimately, the decision would be made by DoC though Te Roroa had a big influence on decisions in the area. "We have to take their values and their conservation principals into consideration," Hardy-Birch said. "This might be one of the practical tools that we need to apply in order for there to continue to be kauri forests in the future."
Kauri dieback expert Nick Waipara, principal adviser of biosecurity at Auckland Council, said, "Surveillance has shown Waipoua Forest is highly contaminated with PTA. It's not just in little pockets."
Auckland Council's parks recreation and heritage forum chairwoman Sandra Coney said a rahui was already in place on some tracks in Hunua and Waitakere which were clean of PTA. In February she and representatives from other councils asked biosecurity minister Nathan Guy to ensure further research would be funded beyond mid-2014. From 2009-2014 the Ministry of Primary Industry (MPI) contributed $4.8million of the $6million cost. "It came as a complete shock that funding looks like it is not going to be renewed. I don't think a lot of members of the public have twigged to how serious this is. We've already got 13 per cent of the kauri areas in the Waitakeres infected. The trees do not recover from this. It's completely fatal. It's heartbreaking and the Government's stance on this is devastating." Guy's office said the minister was happy to meet councils on the issue. The ministry said it was committed to the kauri dieback programme after 2014 and a decision on funding would be made once arrangements had been finalised. It had already spent $656,220 on research and $339,269 on projects due to be completed by June 2014.

Visitors feel for Tane
The Herald on Sunday asked visitors to Waipoua about the forest being closed to the public.
Inge Wieser from Holland said if access to Tane Mahuta hadn't been possible, "we probably wouldn't have come here. We would have gone to see other trees".
Countryman Tim Eijgelshoven said most tourists would be none the wiser if the tree wasn't accessible. "Just don't tell people that this is the biggest tree, they'll never know."
Joe Leonhardt took his German parents to see Tane Mahuta this week. "If it [a ban] needs to be done to keep the tree alive, they should do it. I'd rather see a video of it or see it from a viewpoint on the street than have the tree die."
Of his parents' impressions, he said: "They really loved it."
Braden Bryant from Northland thought the damage may already have been done. "If it's too late, it's too late."
Fellow Northlander Lisa Topcsov said: "We probably wouldn't have stopped at all if the tree wasn't here."
Chris Watts from Britain said: "We've come here especially to see it. We would have travelled a long way out of our way. (My wife) really likes trees."
Added Watts' wife, Suman: "It would be a shame to stop access to the tree but I wouldn't want any disease to spread."