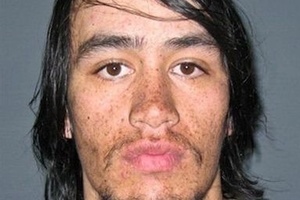 A young, chronic petrol sniffer and petrol drinker accused of groping a schoolgirl was denied bail and described as a risk to the public during his appearance in the Masterton District Court yesterday.
The homeless man, who has a plethora of serious addiction problems, has resisted previous efforts to interact with rehabilitation services. A Wellington alcohol and drugs assessment director, however, has described the treatment of the troubled man as "an indictment of the justice system".
Roger Brooking, clinical director of Alcohol and Drug Assessment and Counselling, said he was aware of the challenge for police to deal with the youth but much more should be done to help him battle his demons.
Benjamin Hawea, 19, of no fixed abode, appeared in front of Justice of Peace Peter Debney, charged with indecently assaulting a schoolgirl on March 28 in Masterton. He allegedly talked to her before touching her midriff and breast.
Sergeant Jodie Lawrence, prosecuting, told Mr Debney the alleged incident was captured on CCTV and the accused was under the influence of petrol at the time of the alleged offence. She objected to bail, saying Hawea was "a risk to the public".
Hawea, who represented himself during the short hearing, sought bail and asked if he could be allowed to reside at his aunt's home in the town.
Authorities have found it difficult to house and treat Hawea for his addiction to petrol sniffing and petrol drinking.
In August 2012, Sergeant Garry Wilson, of Masterton, said police, although not charged with finding a place for Hawea to live, embarked on a nationwide search for somewhere for him to go, without success.
Mr Brooking said police had tried to help but further options should be explored.
"I think the police have worked very hard to assist the young fellow and they have run out of ideas," he said.
"Clearly, what he needs is rehabilitation ... why have they not ordered a comprehensive alcohol and drug assessment? This is an indictment of the justice system."
The probation services were contacted by the Wairarapa Times-Age yesterday but said they were not able to comment on individual cases.
Mr Brooking said that if the man was out of control and not capable of dealing with his addiction problems, alternative measures should be taken. "He may need to be admitted under the alcohol and drug act for compulsory treatment because he may be the type of person who would walk away [from help]."
During Hawea's court appearance yesterday, Mr Debney said the nature of the accused's offending was of concern.
"The fact that you have active charges against you has to be weighed up against your previous history, but in this case it's certainly a very serious matter. If the court would need to consider bail you would have to have a suitable address," he said. "There seems to be an escalation of you not being able to exercise judgment."
Lawyer James Elliott told the court that because of Hawea's previous record, which comprised 17 terms of imprisonment, which was well above the specified 14 terms, the defendant's bail hearing would have to be considered by a district court judge.
Hawea was remanded in custody to appear in the Wellington District Court on April 10.
For more articles from this region, go to Wairarapa Times-Age