Gifford Jackson was one of New Zealand's first industrial designers, creating household products in the US for 17 years before returning to New Zealand. His work is the subject of an exhibition at The Depot in Devonport which opens this weekend. He turned 91 yesterday.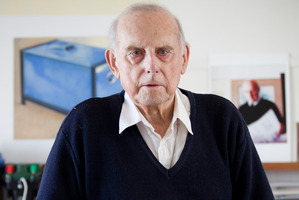 1. You worked with some of America's top industrial designers in the 1950s in New York. What kind of impression did it make on you and your work?
It was electric. In New York you have all the top people from all the different fields and the work that they are bringing out is always at the cutting edge. It gives you a standard for your own work and socially, of course, it was fascinating because it is so cosmopolitan.
2. You photographed a lot of beautiful women in New York during that time. Why did you never marry?
In New York there are always new things, new girls and you don't sort of settle down. I did propose to one girl and one proposed to me but I thought if I brought a New York girl home to New Zealand she would pine for home. I have a beautiful ladyfriend now though and we go out to lunch every Saturday.
3. Your design career began at Fisher & Paykel in the 1940s. How important was that company in terms of NZ industrial design?
When I joined them in 1945 they were manufacturing American products under licence but adapting them to New Zealand conditions. They were very open to what I had to offer including my 3-point perspective of concept drawings and my concern for aesthetics. Unlike some other protected industries they gave research and development a growing priority and have used design to adapt to changing circumstances ever since.
4. You've designed toasters, showers, train exteriors and interiors, TVs and boats. Which product are you most proud of designing?
It was always the product I just completed. Now, like a parent, I love them equally. I designed a wash handbasin for American Standard - thousands of those have been produced - and a dental x-ray machine which was shown at the Triennale di Milano in 1954. But one that people might be familiar with is the Bic office tray which I designed 20 years ago but you see them everywhere today.
5. What was your greatest failure?
I was defeated in my attempts to fulfil Norman Bel Geddes' vision of a Schenley liquor store display in which Dubonnet was to be poured into a glass to the sound of clinking ice cubes and a woman's laughter. The technology of 1954 was not quite up to it.
6. If you could have designed one product, what would it be?
A superyacht.
7. Are New Zealanders more function than form?
No8 DIY ad-hocery favours function over form. New Zealand's best designers give both equal status.
8. Does style matter?
Yes. But it's a very mysterious thing what style is. For me it's about what's left when nothing can be added or subtracted.
9. Is there a product you use daily that brings you joy for its design?
My iMac and my Honda Jazz.
10. Who continues to inspire you?
Walter Dorwin Teague - the "Dean of American Industrial Designers" - who established the benchmark for professionalism. (I worked for him for 10 years, 1954-1964.)
11. Do you have a five-year plan?
No. But I do have a seven-day plan called my medication organiser - which I designed for Dr "Tangi" Martin back in 1982. I didn't think I'd be using it myself one day!
12. How has New Zealand design fared as manufacturing has moved offshore?
It's overseas ownership rather than offshore manufacture that has caused the loss of some design. But it is design and offshore manufacture that has enabled Fisher & Paykel [Appliances] to survive as a global brand. I understand their Chinese owners are expanding the New Zealand-based design department, which makes good sense.