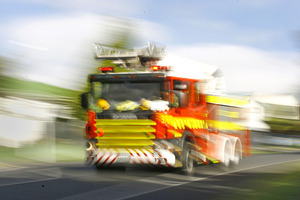 Five helicopters and seven fire crews are fighting a 30-hectare pine forest fire east of Martinborough.
Two further helicopters are expected to join firefighters shortly.
Wairarapa principal rural fire officer Phill Wishnowsky said it could take days to extinguish the large forestry blaze.
"We've got a large forest fire, very active and quite extreme conditions.
The fire is an active fire so of course everywhere it goes it's obviously destroying the forest.
"It's going to take a long time and a lot of effort [to put it out]," Mr Wishnowsky said.
Mr Wishnowsky said there was no risk to surrounding property at the moment.
Wellington fire communications shift manager Tim Rees said the forestry block fire was reported at 5.50am this morning.
Fire services from Martinborough, Featherston, Upper Hutt, Wellington and rural fire parties are fighting the blaze.
For more articles from this region, go to Wairarapa Times-Age