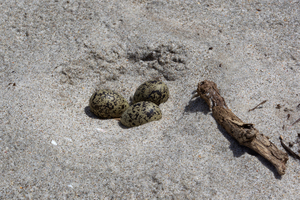 An endangered bird that was at risk of having its small population decimated by oil from Rena, is back flying high again.
About 120 of the fewer than 1500 Dotterel left in New Zealand were on beaches in the Bay of Plenty when oil spilled from the container ship in October 2011.
Dotterel nest on the sand, so around half the adult population were put into captivity to save them from the oil.
Independent shorebird ecologist Dr John Dowding says sadly it was not always possible to catch both birds in each breeding pair, but today most of the survivors have paired and are breeding again.
Dr Dowding says the captured birds appear to have re-adjusted to life in the wild as though nothing ever happened.