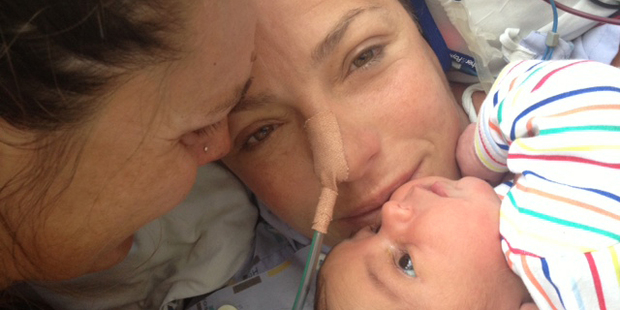 A woman has fed herself and held her children for the first time since a surfing accident left her paralysed.
Surfer Amanda Lowry was riding her last wave of the day at Mt Maunganui when she hit a sandbar, dived off her board and broke her neck.
She was rushed to Tauranga Hospital and diagnosed with quadriplegia.
The Tauranga 41-year-old, partner Gemma Holroyd and young daughter Lola had celebrated the addition of a baby girl, Ziggy, to their family a week before the surfing accident on March 7.
Since the accident, Lowry, who had just begun a new job lecturing in sociology at Waikato University, has been recovering at the Auckland Spinal Rehabilitation Unit.
She was unable to feel her legs and could not move her arms after the accident.
Two weeks on, Lowry has fed herself a chip and held her children in her arms.
She is determined to get back to normal.
"It's just the way I roll, just the way it is," she said.
"Just wait until I get back at university. I'll be doing a PhD when I get back... whether I walk, kiteboard, roll or bike out of here." Lowry is expected to stay at the unit for another three to six months but was getting stronger every day.
Tauranga Hospital staff who cared for Lowry in the days after the accident made her laugh so hard she cried. "If there's ever a whinge about our healthcare system, they can shut up right now," she said. "It really is incredible, the support and love we've received. I really want to make that clear and thank those people."
An online charity trust has raised more than $10,000 since it went live on March 15.
Donations can be made here.
For more articles from this region, go to Bay of Plenty Times