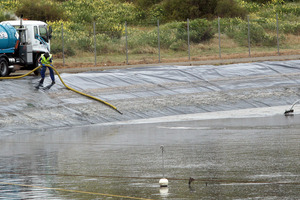 An enforcement order relating to "ponga-nui's'' stinking wastewater treatment ponds will be lodged in the Environment Court today in Wellington.
The order is a bid by Horizons Regional Council to ensure the Wanganui District Council takes all reasonable steps to mitigate the offensive odours that have been emitted from the ponds for months - to the frustration of local residents.
Odour has been an issue at the ponds since they were commissioned in 2007 but since December last year the problem has worsened with most areas of the city being affected by the stench.
Dr Nic Peet, Horizons group manager strategy and regulation, said the district council had signalled its general agreement with the proposed enforcement order.
Dr Peet said Horizons will meet the WDC next week to discuss some "minor matters'' that still hold some concern.
"Following these discussions it is hoped both councils will be able to go back to the Environment Court in agreement to seek an order by consent,'' he said.
An order by consent made the process fairly straight forward and meant the judge's decision would likely be made in chambers without the need for a formal hearing.
However, if the WDC opts to appeal or seek changes that cannot be resolved through the mediation process, a formal hearing would need to be held with both parties called to give evidence in court. The judge would then make a decision on the order.
Dr Peet said any timeframe will be determined by the Environment Court but an order sought by consent was likely to be worked through more quickly than one that was subject to appeal.
- APNZ