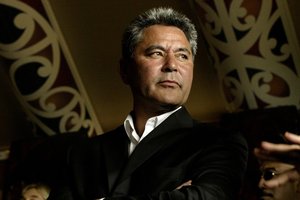 Labour Party hopeful John Tamihere is embroiled in court action over a personal loan of $500,000 he took out for his west Auckland home.
The loan was the subject of legal arguments at the High Court at Auckland today (Wed) between lawyers for Mr Tamihere and property development company West Harbour Holdings Ltd (WHHL).
The court heard how Mr Tamihere loaned his former friend and property developer, and WHHL director, Brent Ivil $210,000 in 2007.
The following year, the RadioLive talkshow host took out a loan of $500,000 so he could buy his home on Onemana Rd in the waterside suburb of Te Atatu.
When it came time to repay the loan, Mr Tamihere said he owed only $290,000 because he was off-setting the $210,000 that Mr Ivil owed him.
WHHL lawyer David Smyth said there is no dispute that Mr Tamihere owes at least $290,000 and he has put the money in a solicitor's account.
"It is an undisputed loan which is still outstanding.''
WHHL, now in liquidation, is seeking a summary judgement on the case in the hope that a trial can be avoided.
But it gets complicated because WHHL says its $500,000 loan to Mr Tamihere had nothing to do with Mr Tamihere's $210,000 loan Mr Ivil.
Details of how the $500,000 was raised were also revealed in court.
Mr Smyth said Mr Tamihere is the CEO of Waipareira Investments who held the mortgage over property owned by WHHL.
He said it is alleged Mr Tamihere had the mortgage discharged. The next day WHHL sold the property and loaned Tamihere $500,000.
That was disputed by Mr Tamihere's lawyer Timothy Allan.
He said Mr Ivil had told Mr Tamihere that he was "out the backdoor to the tune of $290,000'' and threatened to take the allegation to Winston Peters and former Act Party leader Rodney Hide.
"That is nothing short of a little bit of blackmail,'' Mr Allan said.
He said Mr Ivil and Mr Tamihere had once been good friends and had used their respective companies to loan money to each other.
Mr Allan said it was not clear who was owed the $500,000 and several parties over the years, including Mr Ivil, have made claims on it.
"This is a case where you cannot divorce yourself from the conflicts of the evidence because there are conflicts in virtually all aspects of the evidence.''
He said WHHL was claiming it was owed the money, but it had not listed the loan as an asset in its company accounts.
In response, Mr Smyth said no one, apart from WHHL, has claims on the loan.
Justice Pamela Andrews has reserved her decision.
Late last year, Labour's ruling council decided that Mr Tamihere, a former Cabinet minister, could rejoin the party.
He has indicated he wants to stand for Parliament again. However, the council had to decide if it would accept his application to become a member.
Despite the RadioLive host previously upsetting some people within the party with his forthright views, it was considered unusual to turn down a membership application from a former MP.