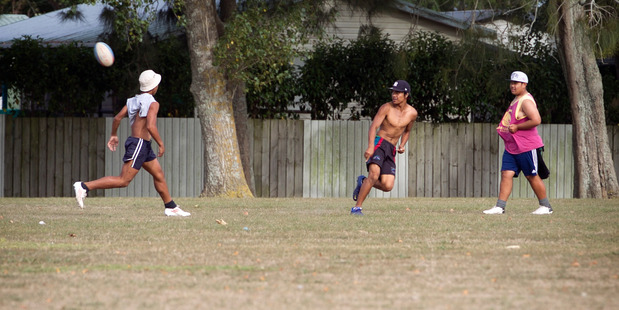 Baked-hard sporting fields with barely a blade of grass are threatening to delay the start of winter sports next month.
And even if that is avoided, many players will face a long winter of cancellations and playing on grass-free grounds that have turned to mud.
Yesterday, the entire North Island was declared a drought zone.
In South Auckland, ground staff brought in extra irrigators in an effort to prepare parched fields, but the lack of moisture in the soil means it will be difficult to get grass seed to grow.
Soccer players in Hamilton have had infected wounds and grass burns because the fields are so dry, and Tauranga City United's first team coach, Duncan Lowry, told the Bay of Plenty Times his players were hurt while playing a match in Waikato last weekend.
"There were several players, when they got in the shower afterwards with their grass burns, they were in absolute agony.
"It (the ground) was just like concrete. It was just shocking."
Elsewhere in the Auckland region, pohutukawa trees in Shakespear and other Auckland regional parks have been given emergency bore water after deteriorating in the dry weather.
And business is booming for water carriers, with some households needing to fill their tanks for the first time in 20 years.
Rain is forecast for this weekend, but the Auckland council's manager of southern sports parks, Malcolm Page, does not expect it to be enough.
Many of the 350 fields in Mr Page's region - which serve almost 100 clubs - are at "crisis point", he said.
"There's a big customer base and a number of sports clubs who are dependent on the council providing its playing surfaces."
Walter Massey Park in Mangere - used for rugby league and soccer - was one of the worst affected, he said, and the region suffered particularly because it had a high number of playing fields with natural soil (as opposed to sand-based).
"We are trying to get some moisture into the ground - it's a hard task - so we can soften it and get some seed growing," Mr Page said.
"Normally we don't have this, nature takes care of it. The cricket season finishes, it starts to rain, we can get these works under way. But we can't do anything when it's like this."
The focus was on watering the premier grounds, where the top sides would play, but some of the other fields were in bad shape.
"Some of these fields have no grass on them at all. The moisture has just dropped - they're brown, they are completely dead."
Mr Page said an option was to hold back the start of the season and not open the grounds until there was some grass on them, but that would be unpopular with sporting codes.
"Or we let the season start on fields which have very poor grass cover, and then when the rains do come we are quickly playing in mud. It's a difficult situation."
In Wairarapa, council officials met the Council of Clubs last week to decide whether to open the rugby season as scheduled next Saturday because the hard grounds were a safety risk.
They agreed to keep the start date but the union is responsible for making sure grounds are safe to play on.
Wildlife and plants in Auckland regional parks including Mahurangi, Omana, Duder, Waitawa and Tapapakanga are suffering.
Rangers are watering badly affected mature pohutukawa at Shakespear regional park and other northern coastal reserves.
Water carriers have had a boom season as rain-supplied tanks dry up.
Anne-Marie Rhind of ASAP Water, which services the Whangaparaoa Peninsula, said: "People who have lived here 20 years and never bought water are buying water."
Yesterday, Manawatu, Rangitikei, Taranaki, East Coast, Wairarapa and Wellington were declared drought zones, joining Northland, Auckland, Waikato, Bay of Plenty and Hawkes Bay.

Parched

• Entire North Island now drought area
• Rock-hard grounds injure players
• Rain coming, but it won't be enough