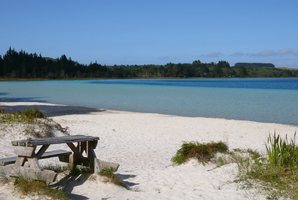 A 17-year-old boy has drowned despite desperate attempts by his three young friends to revive him.
Vaughan Hoyle, 17, of Kaiwaka, was swimming with his friends at Kai Iwi Lakes near Dargaville about 6.30pm yesterday, police said.
The boys went into the water at Promenade Point on Lake Taharoa and swam out to the end of the shallow shelf of water.
Vaughan remained in the shallow water while the other three boys swam across a small canal to the other side of the lake.
"When they returned a short time later they noticed the other boy was not there," police said.
The boys found Vaughan's shirt near the lake's edge and started looking for him.
"They discovered him lying four metres below the surface of the water and pulled him out," police said.
"The boys started CPR ... before the ambulance arrived. However, he died at the scene."
- APNZ