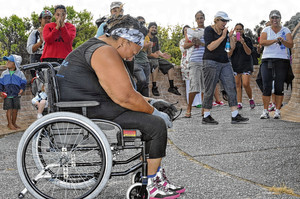 Overwhelmed is how Sass Mahuika says she felt on reaching the Cook plaza on top of Gisborne's landmark Kaiti Hill by wheelchair yesterday.
Sass tackled the Kaiti Hill climb in support of the Cancer Society and the 24-hour Relay for Life which began in Gisborne at midday today. On reaching the plaza she planted her Relay for Life flag of victory.
I felt humbled, she said. I carried all those cancer survivors in my heart with me. I prayed from the bottom until I got to the wall. I looked down on the city and thought how beautiful it is. Everybody is in support of the Relay for Life. I was overwhelmed.
Two life-changing events inspired Sass to set herself the hill-climb challenge. The first was when she was told by a specialist she would never walk again after a car accident eight years ago. To force herself out of her depression Sass started Zumba with Gisborne Fitness. She now does Zumba and cross-training six days a week.
I still do that now as a lifestyle change.
The second life-changing event came four years ago when she was told her 17-year-old son Raymond had been diagnosed with cancer.
Raymond walked alongside his mother during the hill challenge even though his cancer made him breathless, said Sass.
She struggled to hold back the tears as she described how her pensioner uncle Matu Mahuika went to the bank when he read about her plan to conquer Kaiti Hill by wheelchair. Until then he did not know Raymond had cancer.
He told the teller he wanted to withdraw all his savings. He asked me to go to his place and said this is for a good cause, baby.
His heart went out to me and his grand-nephew.
Sass's quest is the result of a team challenge at Freedom Health and Fitness for individuals to raise $100 each for Relay for Life.
The Cancer Society's Make A Wish Foundation helped make her son's dream of watching his favourite rugby league team play in Sydney come true, so Sass's goal was to raise more than $100.
While in Sydney for the match, Raymond lived in the same motel as the rugby league team and dined with them.
So far Sass has raised more than $2000 through sponsorship. More is yet to come in.
To prepare herself for the hill-climb, she increased the intensity of her fitness training.
Because of my training I got a second wind at the first speed-bump. I knew if I stopped, it would be harder for me to carry on. I pushed through the burn.